Welcome to my second ever Monday Music Moment!
Today, I will be listing my favorite songs that have
c
o
l
o
r
s
in their title!
"Look at the stars
Look how they shine for you"

I first heard this song by witnessing it's accompanying
music video
. In those days, I lived with my papa, and my sisters had control over the remote control. They apparently weren't Coldplay fans since they always changed the station when it came on. So I don't think I ever got to hear the song in its entirety back then, but I did know that it was super famous. Many years later, I rediscovered the song, got to hear the whole thing, and loved it. Despite some great songs they've put out since "Yellow," it is still my favorite Coldplay song. I also think the story about the song's conception (involving the yellow pages) is kind of cute. Plus, Brooke White
covered
it.
Honorable Mention: "Big Yellow Taxi" by Joni Mitchell
"A thousand other boys could never reach you
How could I have been the one?"

This is another song I heard during the 90s when I was not in complete control over what I listened to. I remember it coming on the radio all the time and liking it, like many other tracks from The Goo Goo Dolls. When I finally reached the age where I could buy my own CDs, I bought
Superstar Car Wash
, A Boy Named Goo,
Dizzy Up The Girl
, and
Gutterflower
and loved them all. While "
Black Balloon
" is not my #1 favorite GGD song, it one of their best songs off one of their best CDs. And I love when a song is recognizable from the first few distinctive notes and this is definitely one of those songs. Also, I love the lyrics, even though they don't make complete sense at times (wait, the
spoon
was her
womb
?!)
Honorable Mention: "Back to Black" by Amy Winehouse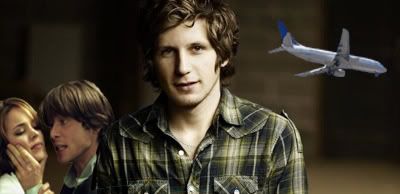 "Red Eye" by Ace Enders and a Million Different People
"Now you're the only thing that keeps me moving here"
You probably don't know Ace Enders or this song, but it's a good song with a color in its name. "Red Eye" is a somewhat sappy song about how Ace is going to take the red eye home to be with his lady. He won't say goodnight, he won't, cause he doesn't want to be alone tonight. I've been a fan of Ace since his days with The Early November (another band you don't know!) and love his solo work. I've seen him 7 times in concert and he's been amazing each time! Plus, he's real nice in person and even remembers me sometimes!

Honorable Mention: "Rudolph the Red-Nosed Reindeer" by Jesus (does anyone know who actual wrote that song?)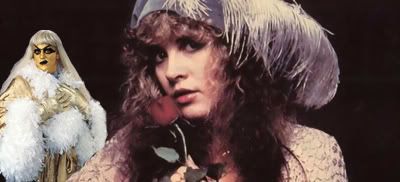 "Gold Dust Woman
"
by Fleetwood Mac
"Rock on ancient woman
Take your silver spoon
And dig your grave"
"
Gold Dust Woman
" closes
Rumours
, Fleetwood Mac's most critically-acclaimed and commerically successful album (40+ million sold!). The song is one of Stevie Nicks' creepier tunes, not only because of the music and the lyrics (see above), but also because it was written about cocaine. Despite that, I still love "Gold Dust Woman." Plus, Hole
covered
it.
Honorable Mention: "Golden" by Fall Out Boy
Blue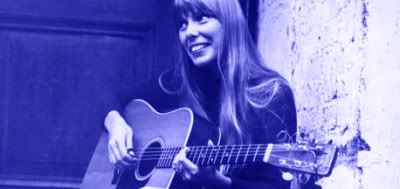 Blue by Joni Mitchell

"Songs are like tattoos
You know, I've been to sea before"
I prefer Joni Mitchell when she tries to make me depressed, which is what she does in "
Blue
." I love the lyrics in this song, the subtle piano, and especially Joni's delivery of it. You totally understand how she feels just from the way she sings this song, which beat out the other 20 songs in my music library to become my favorite track with 'blue' in the title. And btw, with songs like "Big Yellow Taxi," "Blue," "Blue Boy," "Black Crow," "Blue Motel Room," "Two Grey Rooms," "Roses Blue," "Cold Blue Steel and Sweet Fire," "The Beat of Black Wings," "Turbulent Indigo," and "Little Green," it seems like Joni likes colorful songs!
Honorable Mentions: "Blue Lips" by Regina Spektor
"My Blue Heaven" by Taking Back Sunday
video
for the debut single from her 2nd CD, I suddenly became a fan. At first, I was like, "Oh, this is a nice, melancholy song." Then I reached the bridge and was shocked to find out that the song is really about how V. gave up the goods to some dude in a white house. I was surprised by her honesty and liked the song even more. Now, I only question whether she actually lived in a white house with her friends or whether she's just trying to be symbolic....
Honorable Mentions: "White Horse" by Taylor Swift
"Wearing White" by Martina McBride
What are your favorite songs of color??