So I've been so busy this week!
Sunday I had this OOC party and Monday and Tuesday I had American Idol auditions (more on that later) and today is my only free day before I go BACK TO SCHOOL tomorrow! So I must pack.
If I finish packing early, I'll do my next post tonight (where my
many
readers can meet my family!)
For now, here are a couple random cell phone images.
Remember my favorite Project Runway designer Austin Scarlett?!
(if not, here he is with his challenge winning corn husk dress....)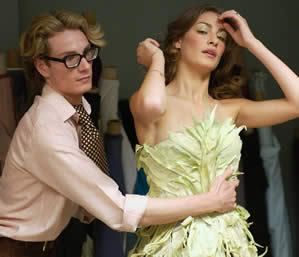 Well I was walking through a shopping plaza and saw him!
Glad to see he's still at that sewing machine!! E>
AND:
I was at Collingswood the other day (like a giant garage sale where people set up tables to sell stuff) and saw this amazing sign on a Star Trek box set: