As some of you may already know by now, I kind of despise Adam Lambert, the kid who is apparently the 'front runner' this season on American Idol.
Last night, the top 2 was revealed as Adam and Kris Allen.
Obviously I'm rooting for Kris, who is a better singer, more commercially relevant, more attractive and less screechy.
No one knows for sure how the finale will turn out,
but here are three possible scenarios for Tuesday night's finale.
1
. After weeks and weeks of screeching, Adam loses his voice right before Tuesday's finale.
To replace him, the producers will naturally reach out to Danny Gokey, who made it to the Top 3. However, Gokey will already have a record deal and won't want to come back. Allison Iraheta (top 4) will also not return, as she has a gig Tuesday night in the local department store. The producers will keep trying and eventually secure Jasmine Murray.
Jasmine was the first contestant sent home this season and will be the only contestant willing to come back.
So the finale will be: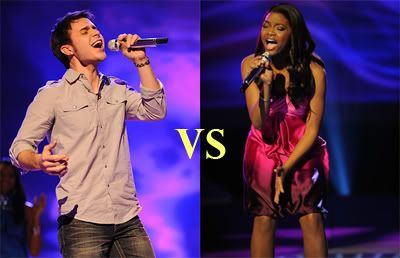 Yeah, and we know how that will play out. Kris wins!!
2
. Remember these pictures of Adam that leaked shortly after he appeared on Idol?
Well, on Monday night, the person who leaked them will leak the OTHER photos taken during this session.... Yes, a nude photo scandal will take place!
The producers will be forced to kick Adam out of the competition, since they did the same to poor Frenchie Davis.
When they are unable to convince the other members of the top 13 to come back (in this alternate scenario, Jasmine Murray's phone fell in the ocean and she will not get the call) the producers will fix an error they made during the Wild Card round....
They will bring back
Tatiana DelToro
.
Instead of declaring either Kris OR Tatiana the winner, the two will BOTH win the competition and record a CD of duets.
3
. Right before Tuesday's show, Adam will run to the local Rite Aid to grab
some
gallons of make-up. But when he gets to the make-up aisle, he'll realize that he can not go on stage to compete in the finale....
When Adam refuses to go on stage without his CoverGirl, the producers will run around looking for the make-up he needs. However, I will have stopped all the CoverGirl delivery trucks and no make-up will go out that day.
When the producers are forced to find a replacement, they will think:
"Who is another performer who we have called theatrical in the past?" Of course, they will think of Syesha Mercado, from season 7 of American Idol.
They will then remember how unfair the judges were to this goddess; the judges called her 'theatrical' like it was a bad thing (unlike Adam......) and when she sang the best note ever while performing Fantasia Barrino's "I Believe," the judges told her she shouldn't sing that song because she is not Fantasia -- aka she is beautiful, literate and has a soothing singing voice.
Naturally, Syesha will come back and although Kris will end up winning, Syesha will be remembered by record label executives, get a record deal and sell more CDs than
Clay Aiken
Carrie Underwood.
So, as is clear from any of these scenarios, Kris Allen needs to win American Idol!
Think of it this way - if he wins, he will definitely be the most attractive male idol winner!

So remember, next Tuesday, whether you watch the show or not,