Here it is! The final challenge of Project Runway: TCNJ! After these votes are tallied, we'll have the final three designers. These three lucky souls will then have time to create a collection to show the judges and finally, the winner will be announced.
For the final challenge, the designers and the models met at the runway for model selection.
It was very difficult for everyone to choose their models, but in the end, one model was eliminated from the competition.
The designers were not given bags to use, but had the ability to use whatever shopping bags they had. They also could swap with other designers. (Therefore, don't try to guess the designer based on what bags they used!!)
But before the designers could begin, they were given a shock:
The four eliminated contestants were returning to pair up with the final 4!
The teams were chosen at random and were: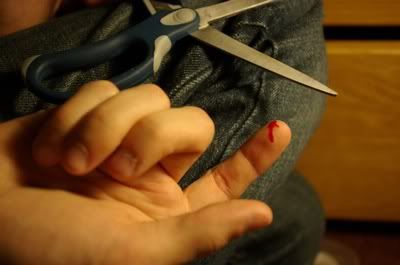 But Delisa used her healing powers and he was cured in 30 seconds.
Meanwhile, Dana learned what it was like to work with a hamster.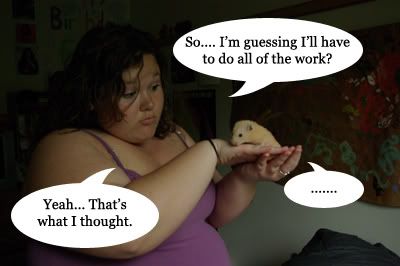 Unfortunately, shortly after they finished sketching a design, Stevenson and Yaris got into a fight that resulted in Stevenson's (second) removal from the competition. Although pictures of this altercation were captured, they will not be posted due to the violence, nudity, and foul language contained in them.
The groups finished working together and four futuristic outfits made their way down the runway.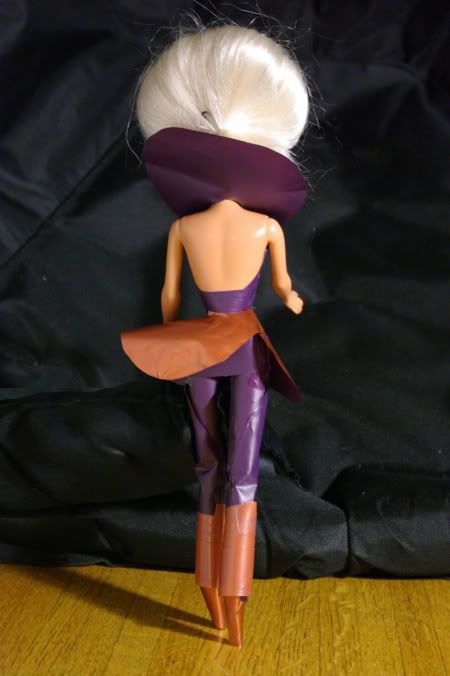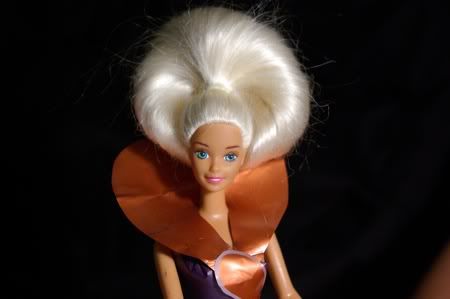 Model: Zoloft
Designer: Enrico
Materials: Entire outfit - Teavana shopping bag (purple exterior, orange/bronze interior)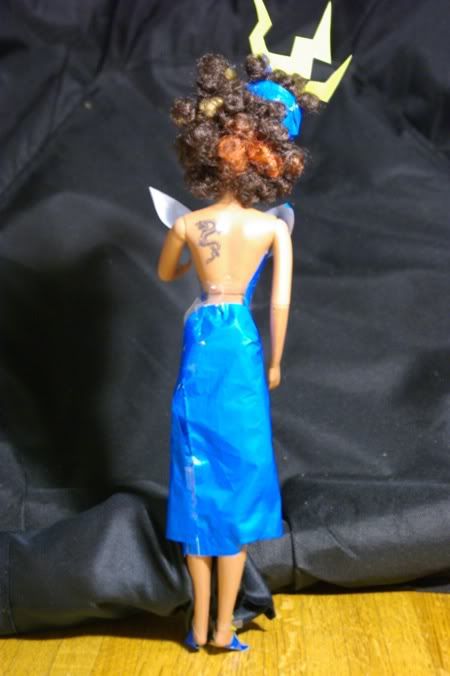 Model: Shaquandatifah
Designer: Richard Parker
Materials: Blue parts of dress - Wet Seal shopping bag
Yellow parts of dress - Forever 21 shopping bag
Shoes - Wet Seal bag with Forever 21 bag stripes
Hat - Wet Seal bag base with Forever 21 'adornments'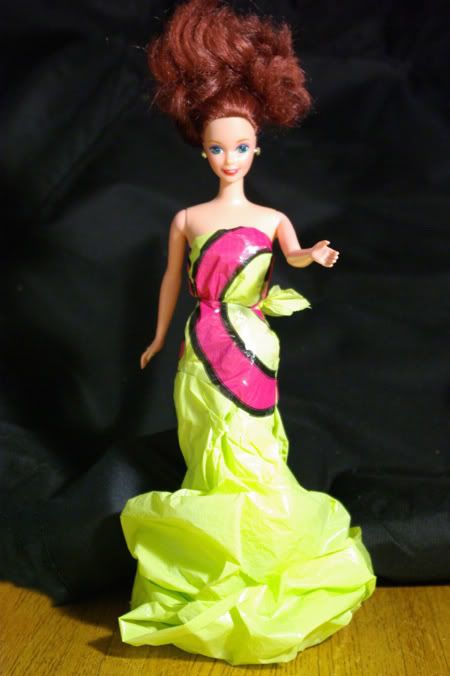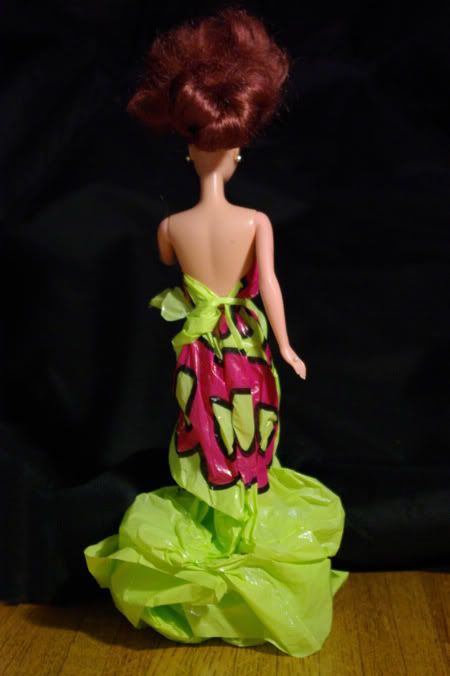 Model: Maddie
Designer: Yaris
Materials: Dress - Debs shopping bag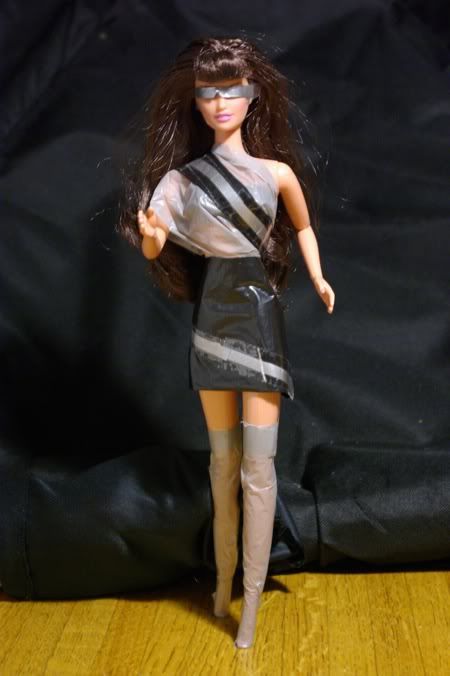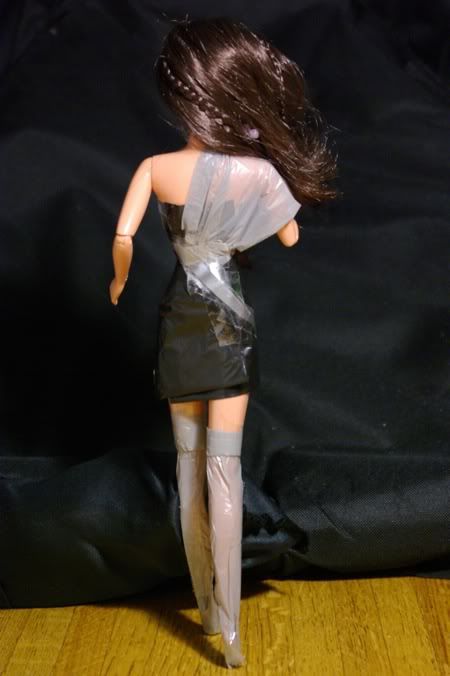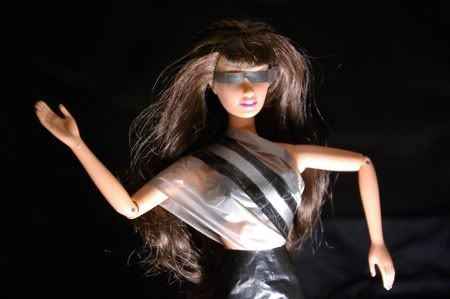 Model: Chloe
Designer: Christie
Materials: Grey top and boots - Kohl's shopping bag
Black skirt/black and silver stripes - Express shopping bag
Sunglasses - Express shopping bag
And that's it!
JUDGES:
Respond to my e-mail in the following format:
#1 Favorite Design:
#2 Favorite Design:
#1 Least Favorite Design:
#2 Least Favorite Design:
Since you don't have the designer's names, use the model's name to indicate your favorites and least favorites.
Feel free to leave any comments about designs you loved or hated as well!
As always, judges or non-judges can feel free to leave GENERAL comments on this entry, like, "How sleek and sexy!" or "If this is the future of fashion, I hope I die soon!" but DO NOT post your votes for favorite and least favorite in the comments section!