As all youngest children know, God gives us siblings just so that they can embarrass us whenever possible. Since I have THREE older siblings, I have a lot of interesting/embarrassing/tragic stories from childhood.
Here is one I'm SURE I'll never forget....
(As usual, I am played by Shia LaBeouf and TJ is played by Mariah Carey. My father is played by James Gandolfini. And his way of speaking is hard to transcribe, but I tried. lol.)
One day, my siblings were getting ready to visit my aunt and uncle.
My father looked us over to make sure we didn't look like 'the garbage people' and was not pleased with my hairdo.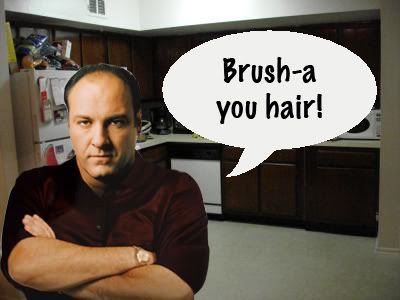 After crying (I often cry when someone yells at me), I made my way to the bathroom so I could brush my hair.
But my sister
TJ
suddenly piped up.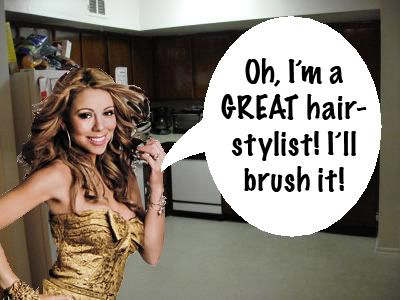 After trying to brush down my cowlick for like 15 minutes, my sister gave up and decided to use a different method to control my wild mane.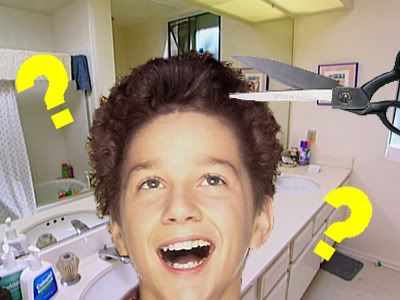 I still don't know why I ever let my sister get the scissors when she was supposed to be BRUSHING my hair.
Hey, what can I say? I was a very trusting child.
So anyway, she only snipped a few strands, but my father came in and basically had a heart attack. He said she ruined my hair and decided that their was only one solution.
So he SHAVED my head.
As my papa shaved off all my locks, I just cried a thousand storms, flooding the bathroom in the process. When he was done, I put on a baseball cap, ran into the other bathroom in the house and locked myself in.
My father tried to get me to come out.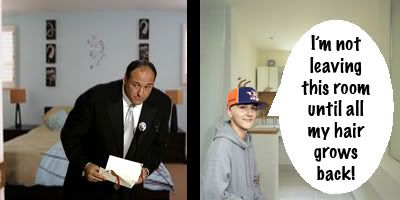 Well we obviously know that didn't happen. He still got me to go to my aunt's house that day. But no one could get me to take off my hat!
Luckily, my hair grows back very fast, so I didn't have to walk around bald for too long.
At the time, I was obviously really mad/embarrassed. But now that I think about it, TJ only did me a favor by being the catalyst for my shaved head.
Now I have something in common with my favorite pop star.