For the past week or so, when I haven't been slaving away at work, I've been watching the first season of True Blood. Several of my friends had recommended it, so I finally got to watching it.
For those of you who don't know anything about the show, I'll give you a brief synopsis.
The show follows Sookie Stackhouse, a telepathic waitress living in the fictional town of Bon Temps, LA.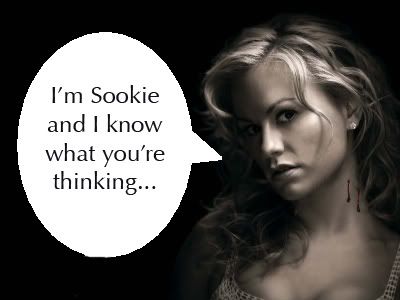 The show takes place two years after vampires have "come out of the coffin." They now live among humans and demand equal rights. This is one of my favorite things about the show; the vampires are not some secret cult that only some people know about. Everyone is aware of their existence, although many people are still reluctant about granting equal rights to vamps.
Sookie works at a bar/restaurant (just like me!) called Merlotte's, which serves as a sort of meeting place for the town. As customers come in, Sookie's telepathy often reveals what citizens of the town are thinking and thereby alerts the viewer to the atmosphere in town.
Sookie's boss is Sam Merlotte.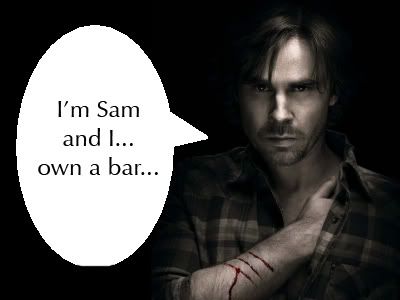 Yeah, Sam isn't that interesting at first. But he gets more interesting as the season continues.
One day, Merlotte's gets its first vampire customer, Bill Compton.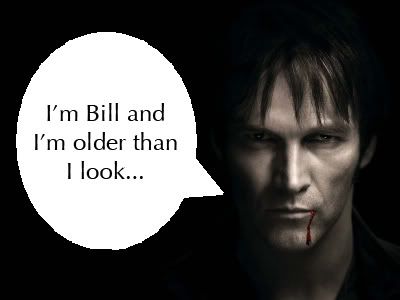 Bill is 170-something years old and has just moved back to Bon Temps, where he lived before he became a vampire. Sookie is immediately drawn to him and their relationship is one of the main storylines of the season.
The other central storyline revolves around a string of murders in the town. Someone is killing off a bunch of the women in Bon Temps and coincidentally (?) they are all linked to Sookie's brother, Jason Stackhouse.
Jason spends about 80% of his on-screen time naked. He is a womanizer (womanizer, oh womanizer) who is not exactly the brightest resident of Bon Temps. He is also the lead suspect in the murders.
The other main character in the show is Sookie's best friend.
Tara Thorton is a .... loud young woman who always speaks her mind. While her rudeness sometimes turned me off, she is one of the funnier characters on the show and often provides comic relief. She also tends to think everyone is racist (look out for the Serena Williams reference in episode 8). Tara's personal storyline doesn't really start until a few episodes in, so I won't ruin anything.
Anyway, I really enjoyed season 1 and am looking forward to season 2.
I found the mystery surrounding the serial killer to be interesting and at times surprising. In the end, I was satisfied with the outcome. I also really like the characters. Except for the drug dealing prostitute character, I like every character and feel like they are nuanced and interesting. I also think that the acting is mostly solid throughout. I'm not quite sure how Anna Paquin won the Best Actress Emmy though; she's one of the weaker actors in my opinion.
I feel like the Sookie and Bill love story is not fleshed out enough. Whenever I talk to people about the show, they seem to say "OMG Sookie and Bill are soooo in love and the perfect couple!" I don't understand where these ideas come from. They don't really spend that much time together on the series and their relationship still seems like a relationship that has just begun. I'm hoping that next season there is either a larger focus on the couple that justifies their out of control emotions OR less drama surrounding them. Either choice is fine with me.
SPOILERS!!!!!
SPOILERS!!!!!
SPOILERS!!!!!
DON'T READ BELOW IF YOU HAVEN'T WATCHED!!
SPOILERS!!!!!
SPOILERS!!!!!
SPOILERS!!!!!
Now, for anyone who has already watched, here are my more spoilerific thoughts.
- Is that Lafayette in the car? I HOPE SO! But I kind of doubt it.
- Wasn't Bill climbing out of the ground and embracing Sookie oddly ... thrilling?
- Why does Tara think her bad attitude comes from a demon? Alcoholism, ok. But rudeness? That baffled me.
- While I'm satisfied with the serial killer conclusion, why did it have to be him? I really liked him. Oh well.
- I don't think I like where Jason's storyline is going. Didn't he just finish telling that creepy anti-vampire guy that he met a vampire (the one he imprisoned) and now likes them? It seems uncharacteristic that he'd join the anti-vamp club.
- I wasn't sure at first, but now I like Sam and Tara together. And the woman with the pig? I'm thinking she's a witch and the pig is her familiar. I would love that since I took a class last year about witches and would be paying close attention for inclusion of witch lore.
END SPOILERS!!!
END SPOILERS!!!
END SPOILERS!!!
The new season starts June 14th, so if you haven't watched, you have enough time to catch up!