This past weekend was Gay Pride weekend in Asbury Park. The last time I went to Pride festivities was when I was like 10. My mother has gone for years and when I was young, she took her children with her.
I live about 1 minute from Asbury Park and the restaurant I work in is located in Asbury. I worked Sunday night and my restaurant was flooded with the gays!
So while I was working, I met a lot of interesting people. Many customers sang along to all the Madonna songs we played throughout the day. One guy called me a "sexy motherf*cker" (is that supposed to flatter me? I don't like being cursed at!). One guy asked if I needed help bringing the food out, and he didn't even work there! So random.
But of all the people I met, one was obviously the coolest.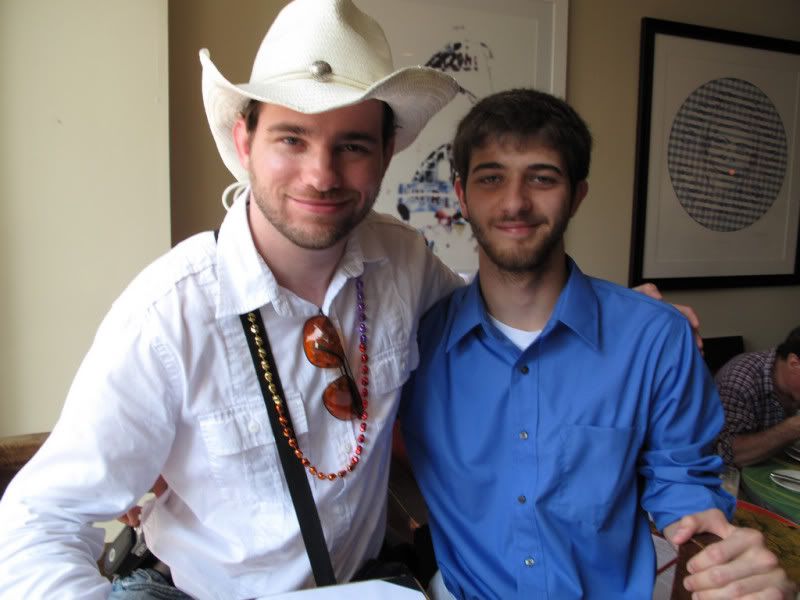 Hotel Tuesday reader, dancing monkey of
Puntabuland
and
blogger
Chris stopped by my little restaurant and not only did I get to meet him, but I ended up waiting on his table!
Chris was super sweet, a good tipper and he didn't curse at me! And I loved his cowboy hat.
Thanks for stopping by Chris. Now that you've been to my restaurant, I expect to serve you a lot more Napa sandwiches in the future!