I am DYING to see
Precious
.
I first saw the trailer very early in the year after the film debuted at Sundance. It won the Grand Jury Prize for best drama as well as the Audience Award. And even more suprising in a way, actress Mo'Nique won a Special Jury Prize for acting!
The movie is about Precious, a young girl living in Harlem in the late 80s (aka, the time I was born!). Precious is abused by her father and is currently pregnant with his second child. The story follows Precious as she tries to cope with her abusive mother and school and all that. And basically it sounds really depressing which means I will LOVE IT!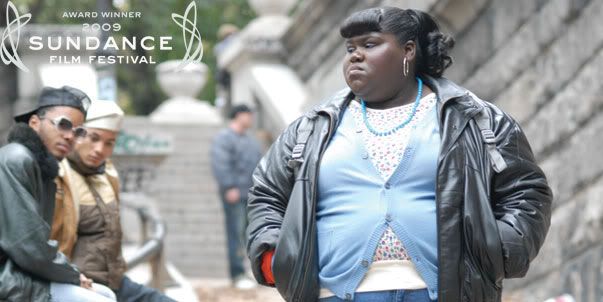 Here are some reviews for it:
"The most unforgettable film I've seen . . . it is raw, electrically charged, heart-rending and completely shattering. . . . it's a once-in-a-blue-moon experience that tests the boundaries of film, with an electrifying, positively Oscar-worthy performance by salty stand-up comic Mo'Nique, as the most monstrous mother on the planet." ~ Rex Reed

New York Observer


"To simply call it harrowing or unsparing doesn't quite cut it" ~ John Anderson

Variety


"Raw, moving and somewhat akin to having a piano dropped on your head, Precious is a fable of abuse and redemption." ~ Liam Lacey

Globe and Mail
Heart-rending??
Shattering
?? Monstrous mothers? Unsparing? PIANOS ON THE HEAD?? Does this sound like my kind of movie or what?!
And I must mention one of the most interesting things about this movie.... Mariah Carey is in it!! And she is getting rave reviews. I know, you have to see it to believe it. But watch the video below and you will see that Mariah went the traditional 'go ugly for an Oscar' route. I hope she gets nominated just to shut everyone up about
Glitter
.
I predict some Oscar gold for
Precious
! If you aren't convinced yet, remember that Oprah endorses the film!
My twin
Josh
has already agreed to go with me ON OPENING DAY to see
Precious
. And if he cancels on me, I'm going alone! Can't wait!!
Oh, and I also wanna see
Where The Wild Things Are
. Besides from your sudden desire to see
Precious
, what movies are you looking forward to?
(P.S. I'm at work right now and our computer has no speakers. So I just watched the trailer with no sound and still knew exactly what they were saying the whole time! Yes, I've watched the trailer that many times.)