Did y'all watch Divas 2009 on VH1 the other night??
If not, don't worry: I invited over my bff
Josh
and watched it for you.
If you don't know what VH1 Divas is, here's a quick history lesson.
From 1998-2004, VH1 brought a gaggle of Divas together on one stage to see if they would get into cat fights and help VH1 get higher ratings. In their first run, they had all the biggest divas on, including Mariah, Aretha, Celine, Cher, Brandy, Whitney, Beyoncé, Diana Ross, RuPaul, Chaka Khan, Elton John and a bunch of others. (While they did have Stevie on for a duet with the Dixie Chicks, she never got to headline! ROBBED!)
Anyway, in 2004, they decided to add Jessica Simpson and The Pussycat Dolls to the Divas line-up and no one watched (duh) and the show disappeared for 5 years.
Well last Friday, it was back in full force!
The chosen Divas were:
Jennifer Hudson
Kelly Clarkson
Adele
Leona Lewis
Miley Cyrus
Jordin Sparks
Here's what went down.
Ex-American Idol judge Paula Abdul was the host of the event. She started out by lip-syncing her biggest hits (not including "Here For the Music" or "Dance Like There's No Tomorrow").
Sorry, I love Paula and am VERY sad that she won't be returning to Idol this year, but she should find a career path that does not involve comedy in any way.... Her joke delivery just didn't work and the whole thing felt awkward.
For example, she was at one point blessed with the presence of my wife Kathy Griffin.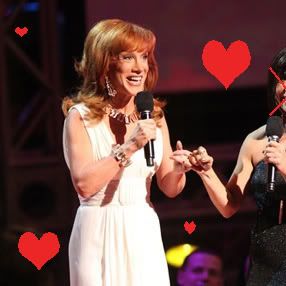 And she awkwardly joked about how Kathy always talks about her and Kathy was thinking "
This
is why I make fun of you" but it was live so Kathy had to control her urges.
And that wasn't even the worst of it. Paula stumbled over to the front of the stage and starting wailing about how there was girl in the audience that she recognized. So
Lucille II
came on stage and awkward dialogue ensued for like three hours.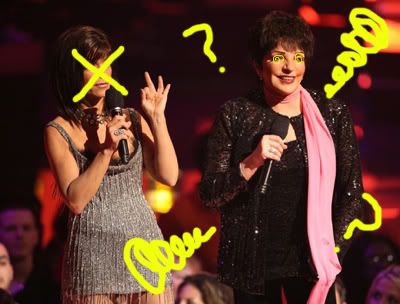 Eventually, Lucille II just stole Paula's shoes and bounced before her vertigo came back.
So anyway, aside from Paula's bad hosting job, the show was pretty good!
Things started with Jennifer Hudson, who did
not
sing "And I Am Telling You I'm Not Going." Since she didn't sing our favorite song, Josh and I just talked about how weird her outfit looked.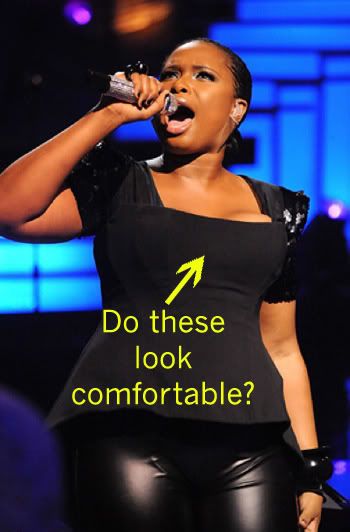 Then, goddess Kelly Clarkson performed a beautiful, acoustic-like version of her song, "Halo pt. 2 (Already Gone)."
I loved the arrangement! And Kelly's performance altogether! She's so talented.
I think something else happened after that, and then Adele took the stage!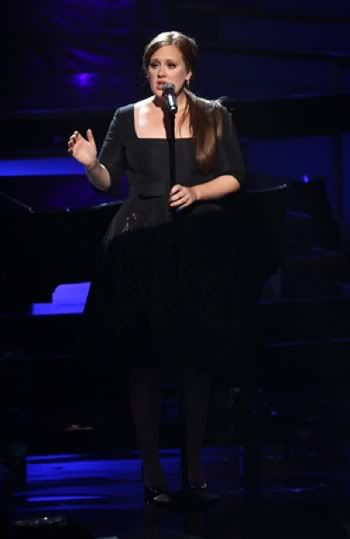 I'm so glad VH1 decided to include Adele in the line-up, since she's mostly known as a UK singer. I think she's so talented (especially when you consider that her CD came out when she was 19, yet sounds like something written by someone much older) and I can't wait for new music from Adele.
Leona Lewis performed her new single "Happy," which is decent but nowhere as good as "Bleeding Love." I normally love Leona, but something was missing in this performance.
Despite her amazing vocals, the performance was kind of boring since Leona didn't express any emotions.
The final Divette to perform was Miley!!!
Miley made up for the fact that she does not have the same vocal capabilities as Kelly, Adele, Leona,
Jordin,
and J.Hud by being the first Diva who seemed to have fun during her performance. People knock Miley all the time, but it's hard to deny that she is a great performer.
VH1 invited a few special guests to the stage to perform in duets.
Some were amazing.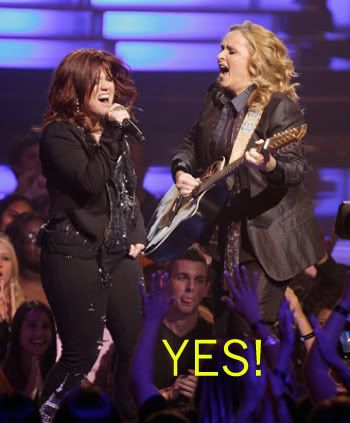 Some were... unbalanced.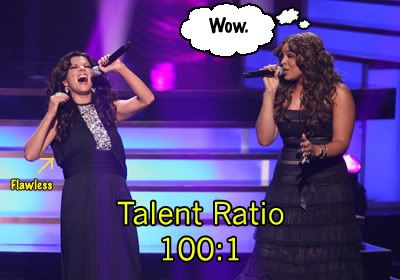 And one was kind of mystifying! They had Miley perform "If It Makes You Happy" with Sheryl Crow, and for some reason made the innocent teen sing the "I still get stoned" line!!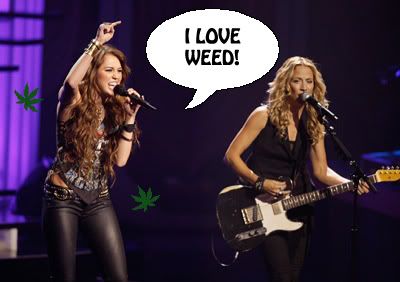 OH! And did I mention who else showed up? Some of the attractive cast members of True Blood!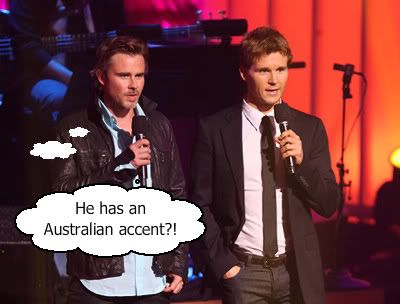 But not Eric :(
So anyway, despite a few boring performances and one giant mistake in the line-up.... Divas was pretty good! I'm excited to see what they do next year. Who do you think will be invited to perform?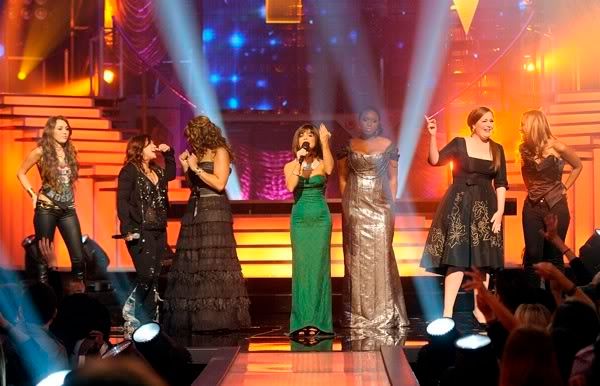 P.S. Isn't that a great group shot? Kelly and Jordin are making fun of American Idol, Adele and Leona are making fun of Americans, Miley is being ignored, and Jennifer Hudson is about to start crying.