For most people at TCNJ, last Monday was the final day of freedom before school started. For me, it was much more important.
I saw Britney Spears live in Madison Square Garden!!!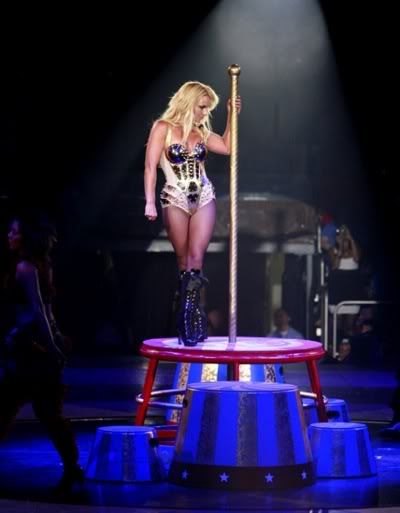 My adventure started with a train ride to NYC with my dear friend Kristen, where I fell asleep while still holding my book open!!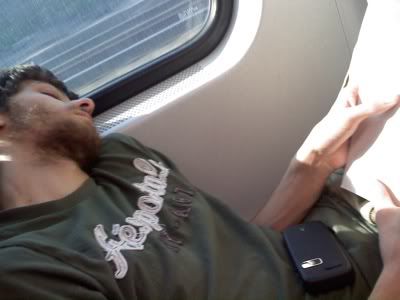 In case you didn't know, Brit Brit was running a contest that day where she was giving away 2 front row tickets to the person who could find her hiding place in NYC. She was revealing clues via Twitter during our train ride. Well, long story short, we knew her location since her 2nd clue but were on the train and unable to go to the M&M Store where her clown was hidden. So I RAN to the store from the train station and got there just as Brit pulled away.... Everyone was still excited and looking at the pics they just took. I just gave dirty looks to everyone and walked back to MSG.
Turns out the whole thing was kinda dumb, since a whole crowd was gathered outside the store and the 'hidden clown' just arrived, picked a random girl out of the audience and she won. Booo.
Anyway, and on the way back, I spotted this: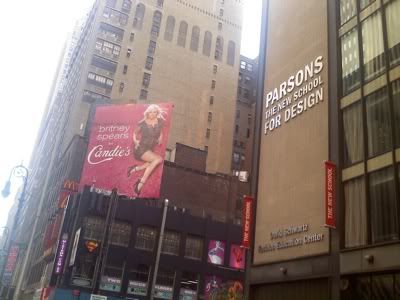 Parsons (aka, Project Runway's past seasons), Britney Spears AND McDonalds all in one location?? Perfection.
So we got some Sweet Tea and waited 'til showtime. We got to MSG and I posed with this poster.
And Kristen posed with NYC.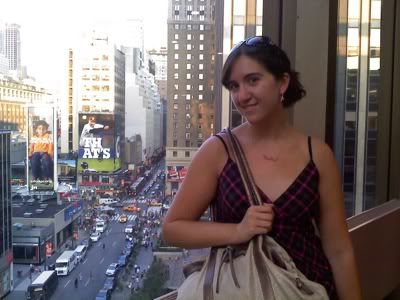 We got in our seats, which were better than I thought! I thought we wouldn't be able to make out the people on stage, but that wasn't the case at all. I could see Britney (and her bad hair extensions) clearly from my seat!!
So after like 17 opening acts (that were equally dumb AKA not Kelly Clarkson, P!nk, Taylor Swift, Leona Naess, Syesha, or someone with talent AKA Christina of the Barge/One Call/Jordin Sparks), Brit finally took the stage! Here's a video from one of my favorite numbers, "If U Seek Amy."
Needless to say, I loved the show! I really wish she would just SING (she could have at least sung "Everytime" since it didn't involve any dancing), but you go to a Britney show knowing that you're really there for the dancing/spectacle and not the singing. The 'circus' element was really cool. Some of those performers were crazy! As for the setlist, I wish she did "Unusual You" instead of "Get Naked (I Got a Plan)" but I liked most of the setlist.
Considering her most recent VMA performance (it wasn't
that
bad!), Brit has come a long way. She's not back to her former glory, but she's getting there. And at least now she's smiling while she performs!
So if you haven't seen Brit... go see her now! Duh! She's almost done touring and it might be another 5 years before her next tour.
After the excitement of seeing Britney live, I fell asleep on the way home.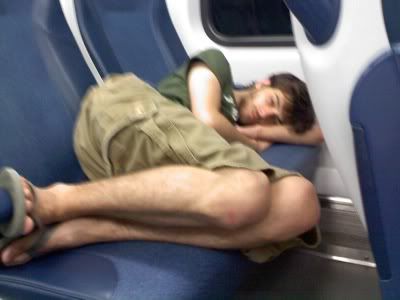 (Surprise! I'm wearing shorts! Now don't make fun of my legs.
)
But I woke up from my nap, just so I could model the shirt that Kristen bought, featuring Britney Spears lyrics.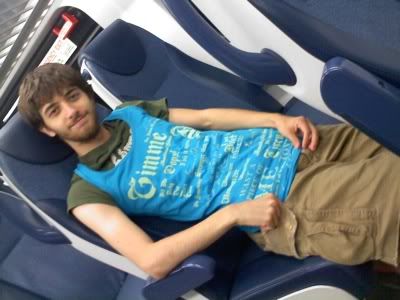 I was too poor for a $40 t-shirt, but I did get this cool cup when I bought a drink at the concession stand.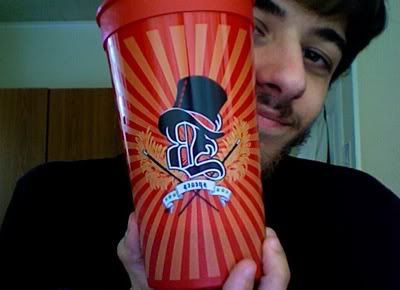 And yes, that is the only cup I drink out of these days.