The votes are in and one of the contestants must say goodbye.
Christie, Richard Parker, Enrico, Yaris and Delisa gathered at the runway to hear the results.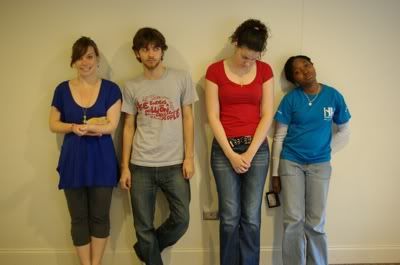 Because there are only 5 contestants remaining, results were read for all contestants.
Christie had the model Consuela. Her dress was applauded for being elegant and classic. The necklace was seen as a creative use of the q-tip. As for the cotton ball, some liked it while others said it's Jackie Kennedy style took away from the bridal feel. However, judges thought her dress didn't push any boundaries and was dull, boring, stupid, safe and
plain
.
Richard Parker had the model Shaquandatifah. His design was called sexy in the front and classy, and some judges thought the boa was surprisingly complementary to the dress. However, others said the back fails short, looks like an apron, and one judge called the dress gross.
Enrico had the model Zoloft. The dress was called nice and warm, chic, dramatic and one judge commented that they'd 'never seen anything so perfect.' Innovate use of materials created a nice volume and texture for some judges, while others thought the material made her look big and was not neat.
Yaris had the model Chloe. Yaris' wedding gown was compared to a giant meringue; the layers created drama, giving the dress a whipped creamy dreamy and pure fantasy appeal. The beautiful dress was created for a princess. However, many asked: "WHAT THE HELL IS WITH THE VEIL??" Judges were baffled by the length of the veil and wished a more delicate pattern was used. One judge even commented, "Without the veil, this dress would have been my favorite, but I just can't give my first place vote to a designer who draped a snowflake of toilet paper over their model."
It seemed that the judges were torn in this challenge. This indecision was reflected in the scores, which were very scattered. Every contestant got both negative and positive votes, and some of the contestants who were one judge's #1 choice were another judge's bottom choice.
Richard Parker had immunity and was safe.
Christie was also declared safe and ran backstage to discuss the results thus far with Richard Parker.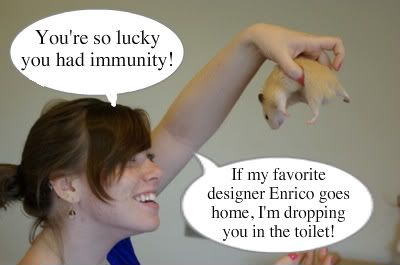 On stage, the winner was revealed.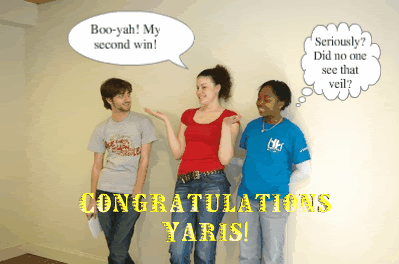 Yaris won her second Project Runway: TCNJ challenge! (previously won for Challenge 2: Duct, Duct, Grey Goose!)
And the loser of Challenge 4: Flushing Bride was....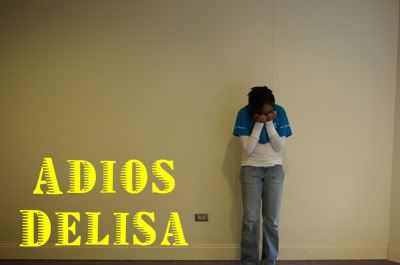 After crying, Delisa said goodbye to the remaining contestants and walked outside and into the woods, looking for comfort that only Mother Nature can provide.
One challenge left until we have our top 3!!!
Tune in next week for Challenge 5, the final challenge before we reach the final runway show.