The votes have been tallied and it as a close one this time! Here are the results of PRTCNJ Challenge 2: Duct, Duct, (Grey) Goose.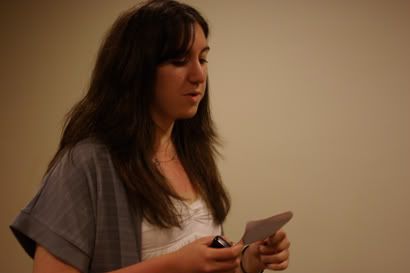 Host Kristen welcomed the contestants and reminded them of the nature of the business: "In the fashion industry, one day you're in, and the next you're out.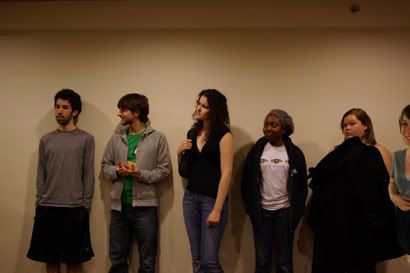 Then, the results.
Enrico had immunity and was safe!
Richard Parker was also safe. Seems the top 2 from last week now were right in the middle of the votes: not the best but not the worst. I guess the judges don't love fabulous hats!
So they went backstage to gossip.
Delisa had the model Chloe. The basket weave was very impressive and called 'brilliant' and 'a stroke of genius reminiscent of Korto's seatbelt weave.' However, it was a little two low cut and MUCH too short. The length was not seen as practical for anywhere but the runway. The edges were also a little messy, leaving one judge to ask: did the doll make it's own dress?
Ross had the model Consuela. Although it could have been tailored a little better and the skirt could be a little longer, the dress was called simple but elegant, sexy yet demure. Judges also like the collar.
Dana had the model Fat Britney. One judge thought the design looked like a straightjacket gone awry while other said it looked like 'jungle woman,' a 'big, fat, ugly mess,' 'something from Planet of the Apes' and asked whether the designer was drunk, or a blind man with amputated hands.
Yaris had the model Zoloft. Judges raved about the multiple straps on the back of the dress, calling them divine and class-tacular. The dress was called 'elegant,' and 'beautiful' and the workmanship was deemed as very high. One judge said, "The entire package from head to toe is fantastic."
Christie had the model Maddie. While some judges said the design was a nice, classic design and the skirt was short enough to be sexy but not too revealing, others called the dress plain and boring. The designer didn't seem to be taking any risks with the common design and the outfit was seen as SAFE. One judge questioned why the bow only held a few strands of hair.
The contestant with the highest score and winner of the challenge was.....
Yaris (Zoloft)!
Ross (Consuela) had the 2nd highest votes and was also safe.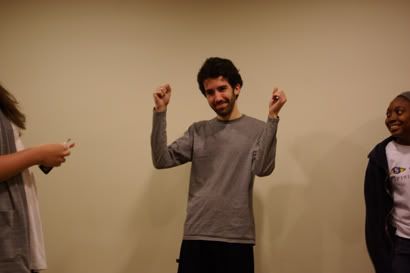 Kristen told Delisa to be careful about dress length and Christie to be careful about playing it safe, then announced they were both safe.
Meaning Dana (Fat Britney) was the eliminated contestant.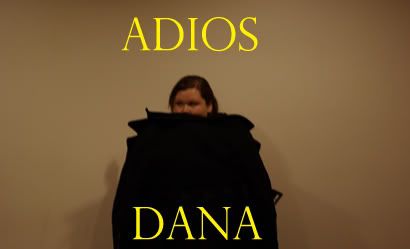 Thanks to all my wonderful judges: I couldn't do this without you!
If you go back to the
challenge 2 post
, I have added the designer names under the models!
Stay tuned as I will soon be posting challenge #3!