The day that marked the end of my first week in Mexico (Day 7), was another one of my favorites! However, it was also another one where I couldn't bring my camera along : (
The night of Day 6 we arrived at our new home, El Rio Lacanja. It was a co-op, meaning Mayan people built the area for people to stay at as a way to earn a living. We were told that the Mayan people aren't respected and because of this, they can not find jobs easily. So co-ops are cool because the Mayans run them and we get to learn a lot about them.
This co-op was... nicer. The cabañas had hammocks on the porch. The beds had the aforementioned green mosquito netting. But there was no door and the ceiling started a good few inches from the top of the walls. So there was wildlife in our cabaña for sure, but with mosquito netting around my bed I didn't care.
So this particular day started with a hearty breakfast.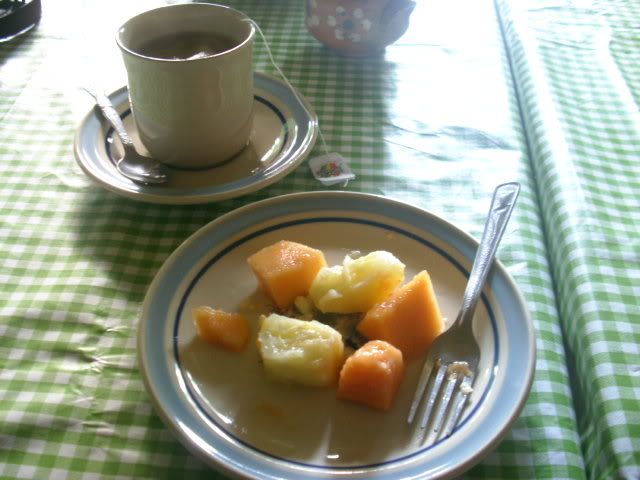 Actually, everyone else had eggs but I don't eat them. Which was sad, because we had eggs for breakfast a lot!
I liked the decor in the dining room.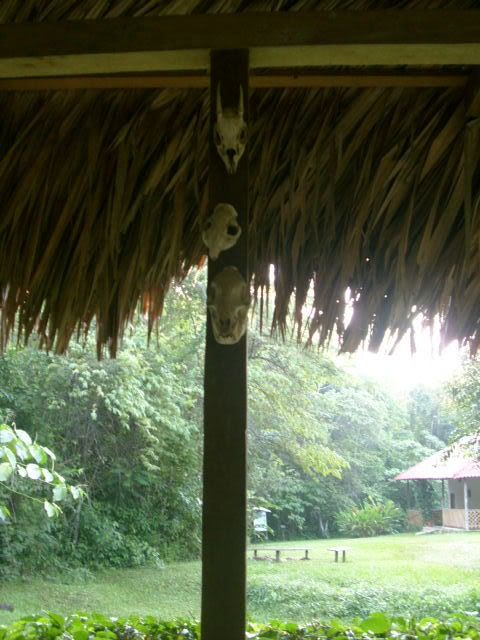 Then we went for a nature walk in the forest that surrounds the co-op. Our guide needed time for something so our teacher acted as guide instead. It was supposed to take 30 mins but we got LOST!!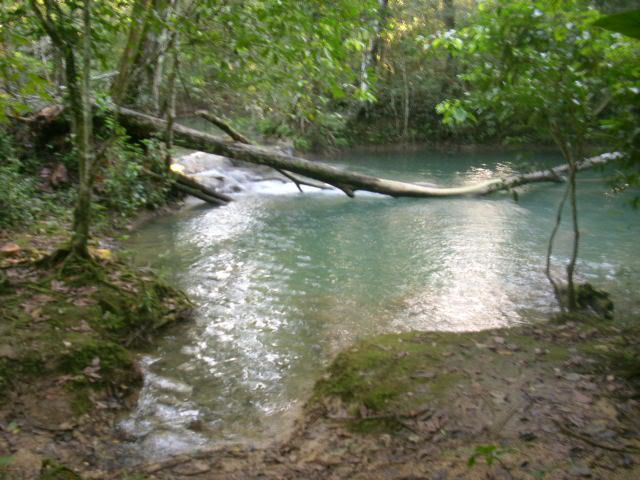 Our teacher really didn't know where we were going. So we spent over an hour in the forest until someone found us. It was really cool.
Then we got on our gear.
That's me in the center trying to tighten my helmet, an act that took like 20 mins!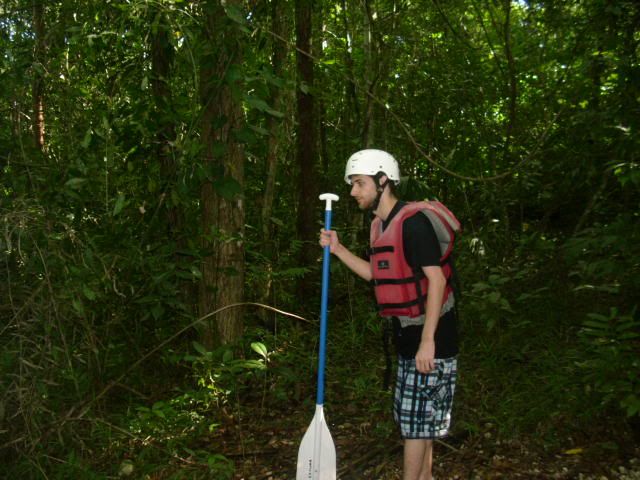 And then we went rafting! This was such an awesome experience.
The river was usually calm and we just got to look around and see the forest around us and the exotic birds flying above our heads.
The best part about rafting was going down waterfalls! But we didn't go down any HUGE ones. This pic I found online is basically the size of the bigger waterfalls we rafted down.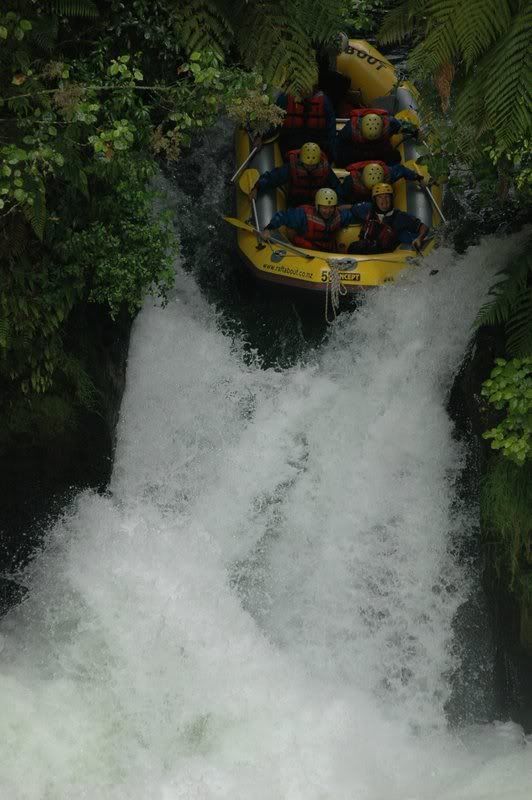 One moment in particular was beyond amazing. After all the students safely came down one waterfall, our professor's raft went to try it. And not only did it flip at the top so he fell out (not at all gracefully), but the raft fell on top of him! We all watched the teacher who gave us our lowest grade last semester take a fall and smiled.
Once we went down like 8 waterfalls we got out of the raft and went swimming in the river. It was so peaceful and warm. Another waterfall was ahead so we just swam/fell down it. One girl cut up her leg pretty badly but I was fine.
After rafting we walked around a bit more. We saw more waterfalls.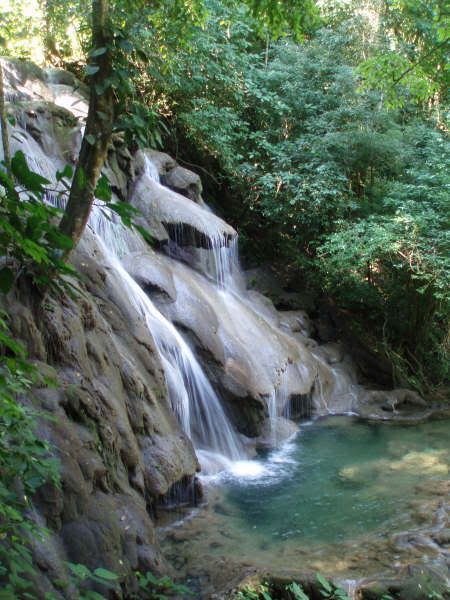 One waterfall was huge and beautiful and we got to go behind it and stuff. It was so cool. Our guide took pictures so if I ever get them I'll post them later.
That night we went back to the co-op for a special presentation from Jesús Eduardo López Reyes.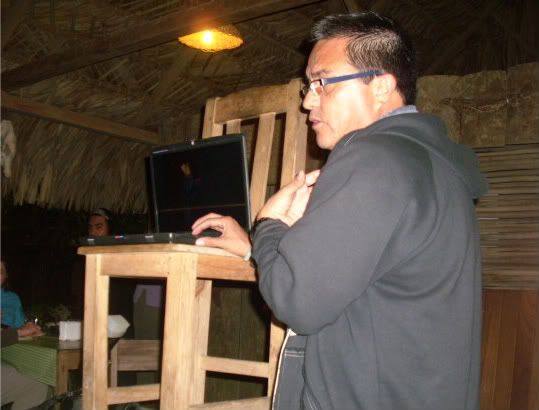 He is a National Geographic photographer who spent a few days with us, taking amazing pictures. I thought it was really cool that we had someone like him on the trip; not only for his accomplishments
professionally
, but because he was such a nice, awesome person in general.
While we were in Mexico, we carried around notebooks, pens, pencils and other school supplies. When we saw children, we gave them some school supplies and said "un regalito."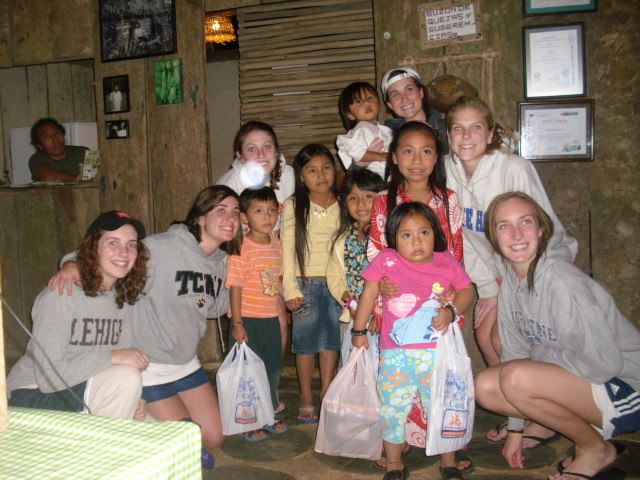 Here's a cute pic of Katie with a little girl.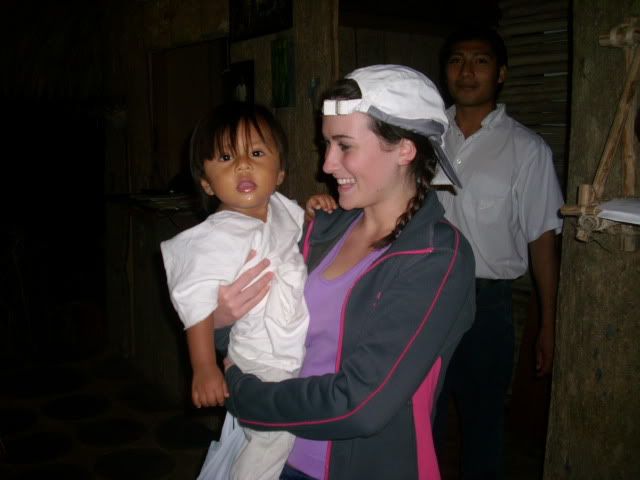 Rafting was one of my favorite Mexican activities. I wish I had some pictures though!