My 5th day in Mexico was New Year's Eve. For the past three years, I have been home alone on New Year's Eve, crying and accepting the fact that I will die alone. So I was glad that this year, it would be physically impossible for me to sit at home alone on New Year's Eve since I'd be in Mexico with the other students!
Btw, this was supposed to be chronicled in a guest entry but SOMEONE was lazy >:|
Before we headed out, I went to one of the laundromats in town to do some laundry.
This place had a "NO ENRICO" policy.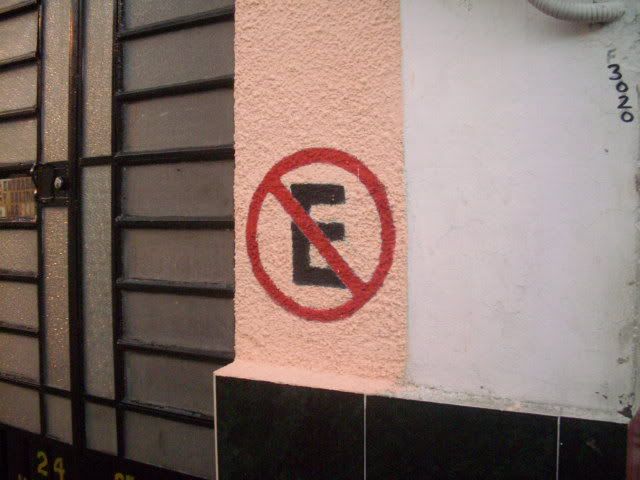 And this place wasn't sure.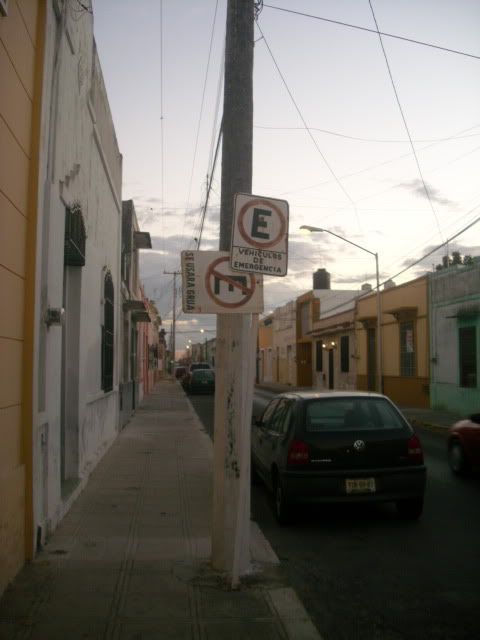 But I eventually found a place. The sign said she closed at 7pm so I figured I could pick up my clothes then. But she said they were actually closing at 2pm so I had to pay 10 pesos to have the clothes delivered to my hotel.
I got to walk around a little more and took some pics.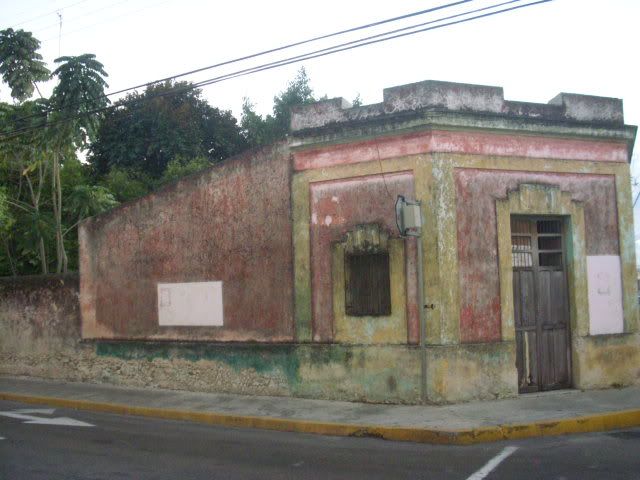 Yup! It's another Palacio de Polt in Merida!
And that building that says "ENERGY Disco" is a club........ Looks fun.
So the day commenced with another long car drive. But before we set out, we needed gas!
In Mexico, you not only can't smoke or leave your motor on while getting gas, but you can't talk on the phone!
And in Mexico, the leading bread company is not Wonder Bread, but Bimbo.
So we started our long journey in our van with some Mexican friends following closely behind in their truck. For a few days, three boys around our age traveled with us. One was named Alejandro and the other two were twins, Ivan and Ricardo. I never learned to differentiate between the twins....
My schoolmates enjoyed making Alejandro say words he had difficulty pronouncing like
moisturizer
or teaching him idioms.
So at some point we realized the boys were no longer behind us. We traveled back and found this.
Since they had car trouble, we had to squeeze them and their family into our van, which normally seats 16 people. But with all his people, we fit 26! But Ricardo/Ivan had to sit on Alejandro's lap.
Finally we reached our destination and climbed out. I saw these cute little carts.
They were very rickety looking, but I thought they were kind of charming. I was the one on the trip that thought everything was 'charming' while others chose 'ghetto' as their adjective of choice.
Well, turns out we had to ride in these carts to reach the cenotes.
Here's my cart from the outside. The whole time we were riding I was concerned for the driver. He sat on this tiny board that looked like it was gonna fall off at any minute.
The inside of my cart (I sat next to Katie Goldberg. After this day, she was called "Katie in the avion.")
The ride was about 20 mins I think and then we reached the cenotes, which translated into English means "waterholes." Lovely.
Cenotes are basically natural bodies of water formed underground. It was really hard taking pictures of the cenotes (mostly lighting problems) but here's a horrible picture of the cenote from the outside.
And here's an inside pic of the wall of the cenote, which my schoolmates climbed so they could jump off.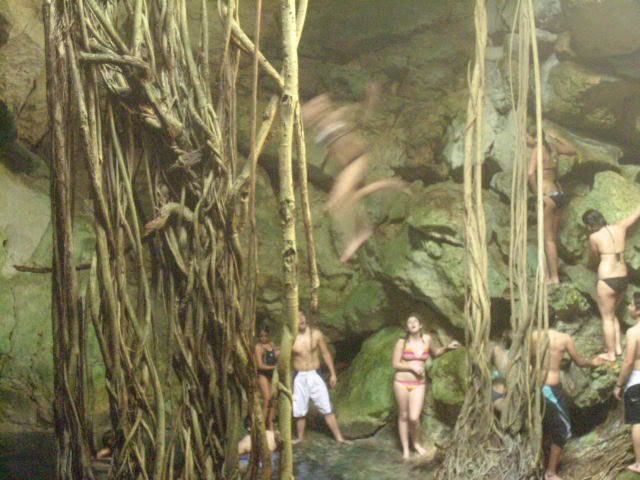 Here's the best cenote pic of all, of my good friend Christina.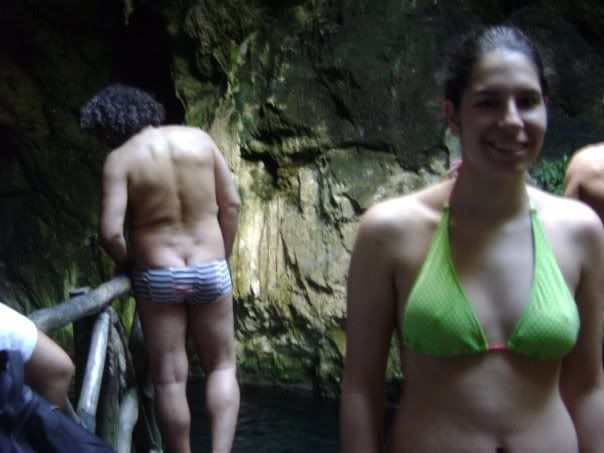 So the cenotes were really cool. The water is warm and SO clear. I couldn't believe I could see the feet of my teacher (he's over 6 feet tall) and then deeper still. Another cool thing about them is that fish swim in the cenotes, so when you look to your side, there might just be a big fish swimming next to you. It was so cool. I wish it was photographable too (is that a word?) but I'm sure you can do a Google search and find some pics.
Once we were done playing in the waterholes, we made our way back on the same rickety carts. Since the driver was basically my BFF at this point (on the way there I talked to him about the horse and his job and stuff), I joked around with him that I wanted to sit on the board that served as his seat.
And he told me I could!
It was a tiny bit frightening sitting up there with no seatbelt and feeling like your chair/board was gonna collapse, but it was SO fun! Your feet get to swing in the air and the ride feels more... liberating than the inside of the cart.
That night everyone was all, "Weren't those cenotes amazing?!" And I was like, "They were alright. But wasn't sitting up front with the driver even better?!" And everyone ignored me. But it was seriously one of my favorite parts of my trip.
We got back to our van and found this hungry dog that apparently had just given birth. Congrats!
Then we drove back home. My laundry was at the hotel desk, which was nice. But when I went out that night I saw an unpleasant surprise!
The laundromat was still open and I paid those 10 pesos for nothing! >: O
We went to Casa de Frida for our New Year's Eve dinner, which was DELICIOUS.
MASHED POTATOES!!! My favorite.
Then we took our last group picture of 2008.
So, how did I end up spending my New Year's Eve of 2008?
All but 3 of my schoolmates went out to a bar. So I stayed in and sat with the 3 who didn't for a while, then sat in my hotel room alone and watched
La pequeña sirena
.
OK, it wasn't a spectacular way to ring in the new year (though I do love
La pequeña sirena
)
but I did have a good day in general, which is more than I can say about past New Year's Eves!