On December 27th, I woke up at 2am and made my way to Newark to catch my first ever flight. Remembering I was going to Mexico, I made sure to grab my shades.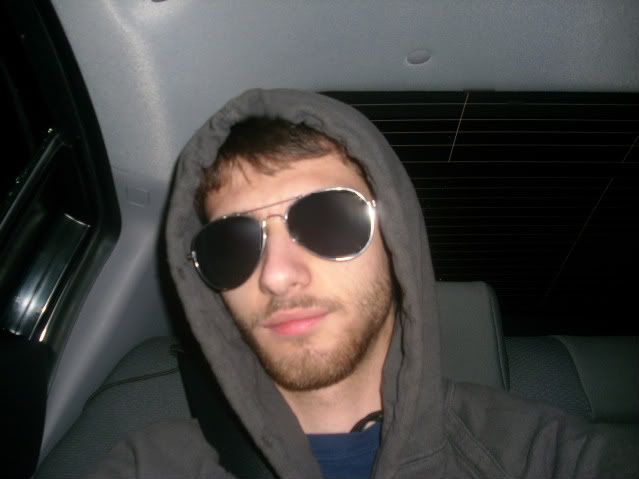 I got to the airport and got my first ever plane ticket and admired my passport picture.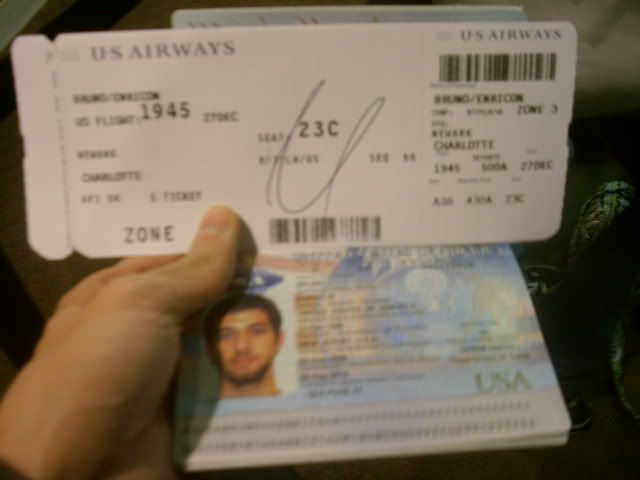 Then I had to go through security (and my teacher told me not to take pictures of this area so I had to do it secretly which is why the photo sucks).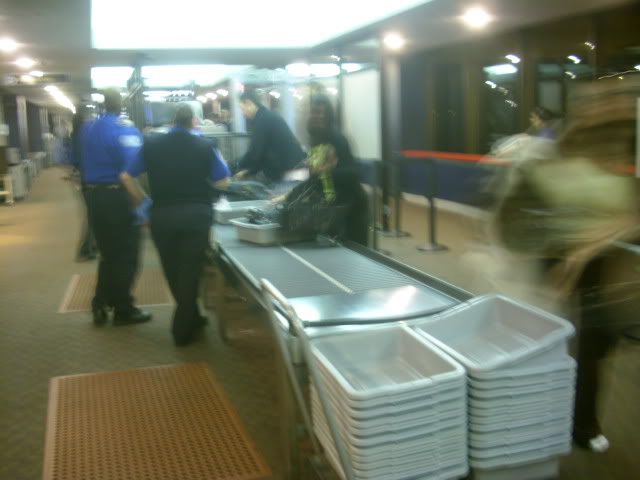 I'd heard some horror stories about this part, but it went smoothly. Except I was the ONLY one the security guard
groped
patted down. Hmm...
We only had to wait for 15 mins, so I looked out the huge windows at the plane I was to board...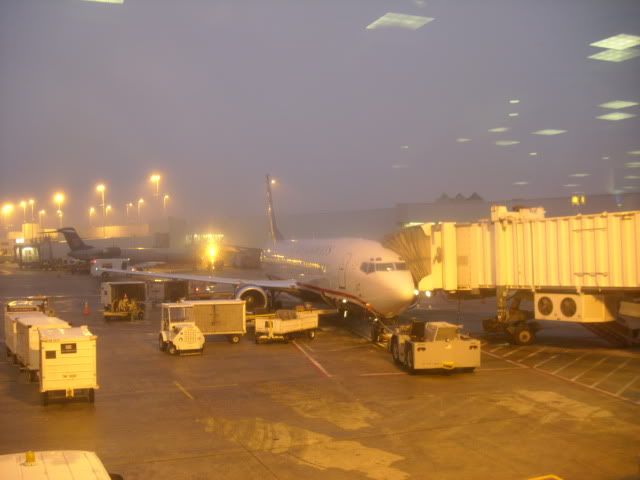 It was the first time I saw one up close so I was surprised at how big it was. Then I boarded it...
and was off. OK, so I don't understand how anyone is afraid of flying. If you're not looking out the window, you wouldn't even notice you took off! Someone described it as being like a roller coaster... and that is not true. It's super fun, but not scary.
And it was fun looking at the clouds.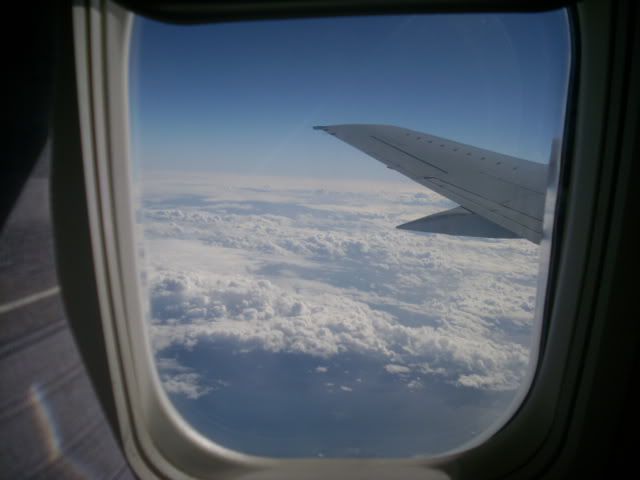 We transferred in Charlotte and then were off to Mexico, which I first saw through my plane window.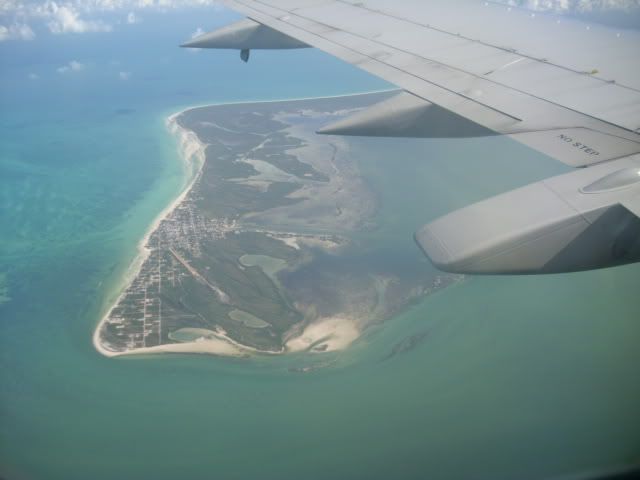 When I walked out of the airport, I saw my first palm trees!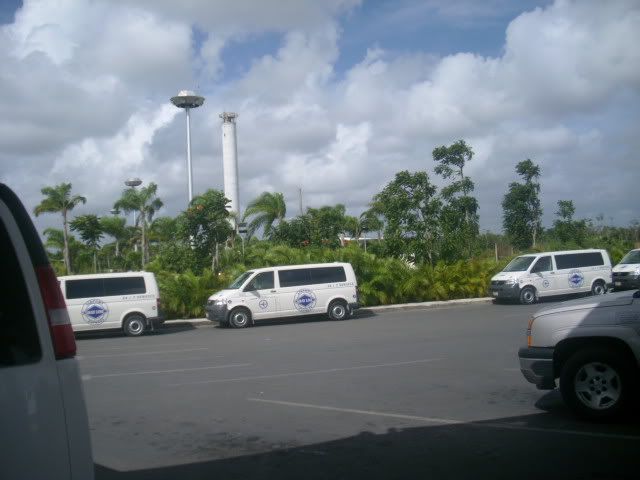 We landed in Cancun, so we drove past this sign:
and we all sighed because we were not staying in Cancun at all... (and taking pics while in a car is hard btw!)
We stopped at a Mexican convenience store called 711 and loaded the van with our luggage. And I found out later that night that the man in 711 gave me the wrong change since I hadn't quite grasped the money system yet.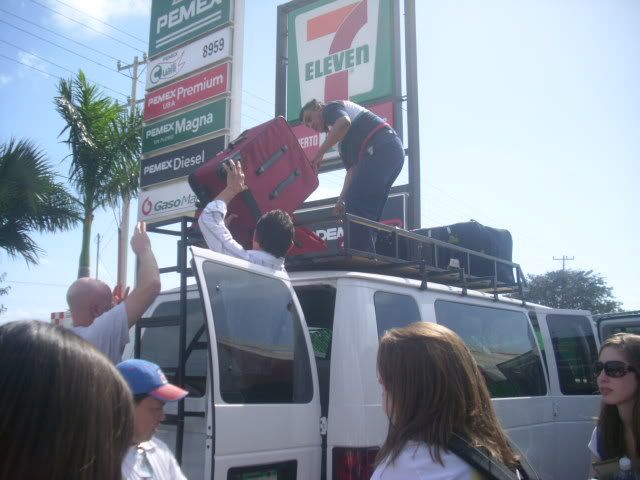 My teacher (the bald one) told all the guys to help. But after taking this picture I hid behind the building instead : )
Then we were off on a 4 hour van ride to Merida.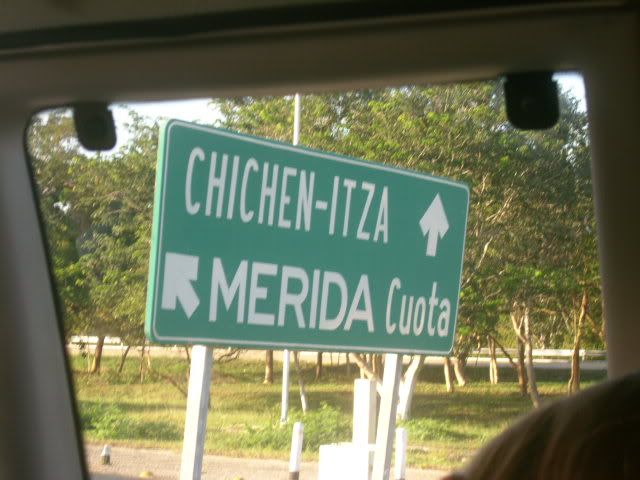 And look at those tolls!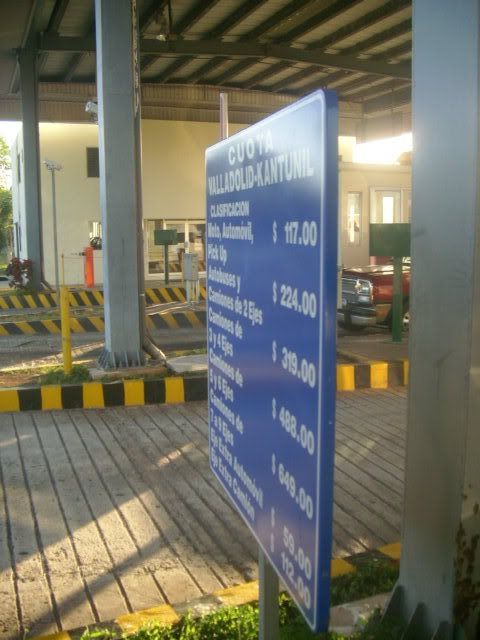 The main ones range from 112 pesos to 649! That's like 60 American dollars! I guess since not too many people travel far they need high tolls.
We finally got to Merida for lunch, and the first Mexican restaurant I saw was... Chinese?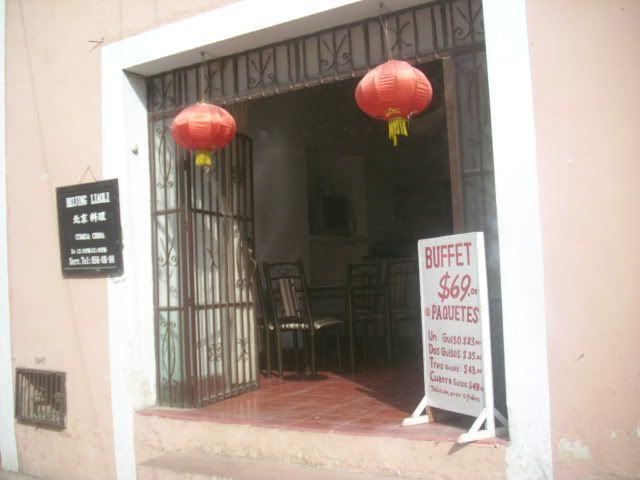 Then I saw this woman and was kinda surprised at her choice of vehicle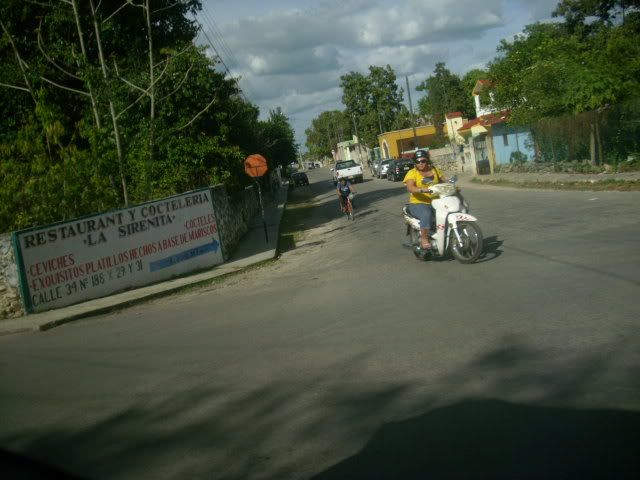 But it turns out that just about everyone rides motorcycles or mopeds rather than cars.
We reached our first dining location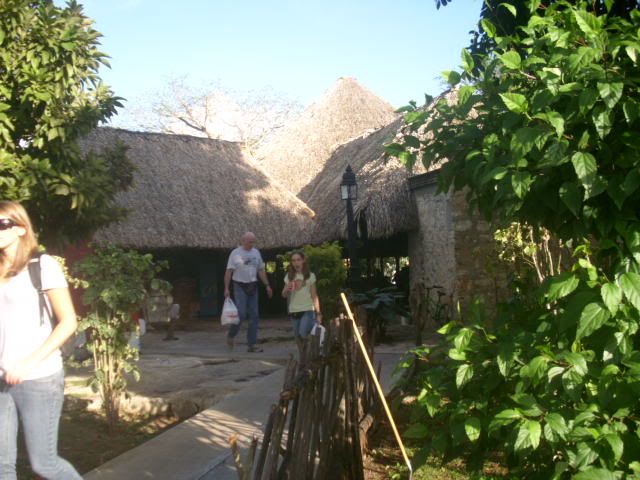 which had a cenote in it! A cenote is a natural water hole that people swim in.
This was was kinda boring but the ones I saw later on the trip were great.
Lunch was basically a big platter we got to choose food from....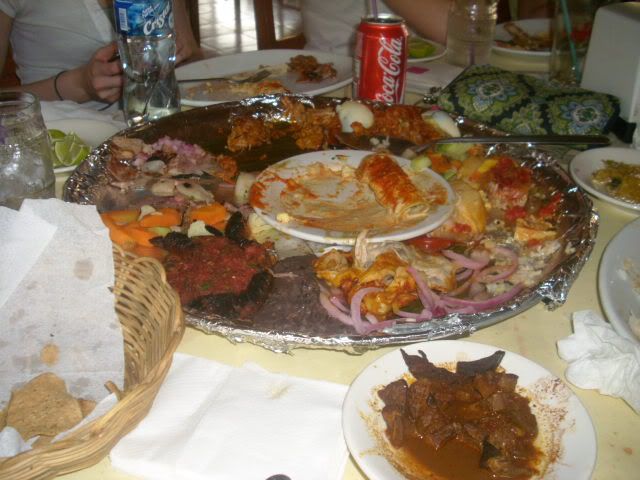 I normally don't eat anything strange looking, but I realized I had to stop being so picky if I wanted to survive in Mexico. And the food was good for the most part. I don't really like spicy food though, and there was a lot of that.
At the restaurant I went into the bathroom and saw two cool things:
One, there was a hole in the wall right above the toilet. I guess that's either for some air or for people outside to jump up and look in on you while you use the toilet. Or for bugs to come in!
Two, that sign says, "Please do not throw toilet paper in the toilet." In Mexico, you can not put toilet paper in the toilet or it'll clog. So you have to throw the dirty paper in the trashcan that is always right next to the toilet. This applied everywhere, even the nicest hotels we were at. Sounds fun, huh?
After lunch we went to our first hotel, Hotel San Luis.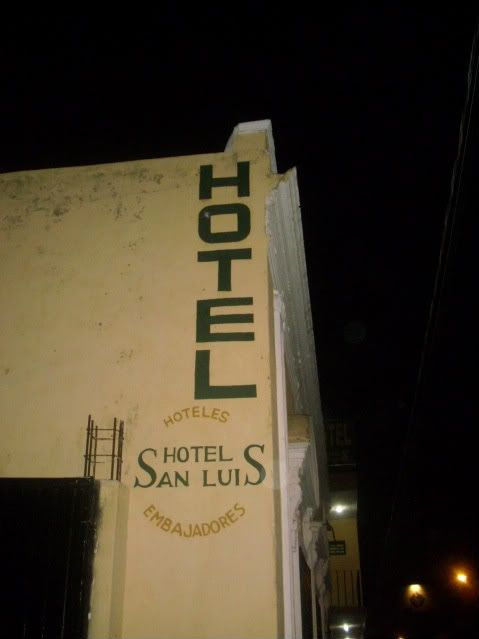 They still had their Christmas tree up and were playing telenovelas!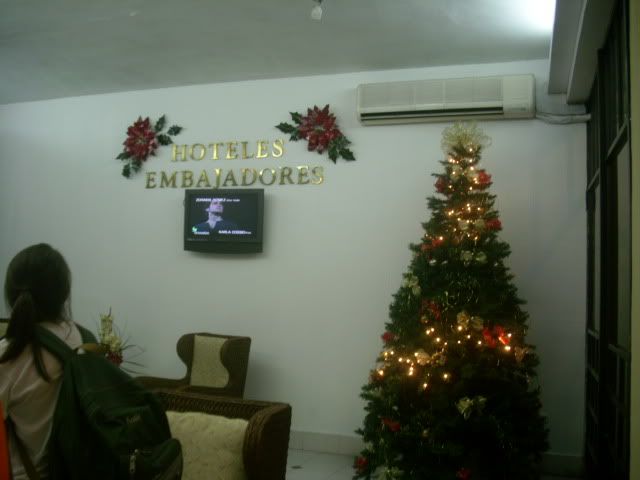 We got our room key for room 214 and I thought that was SO COOL cause my freshman dorm was 214 and Valentine's Day is 2/14.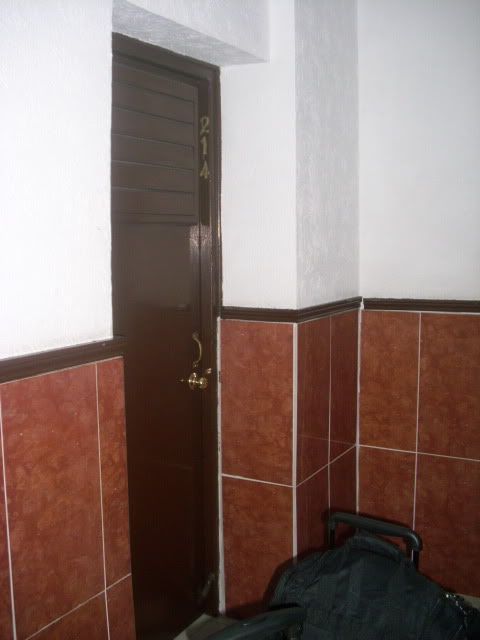 But I read the key wrong and we were actually 204 which has no significance whatsoever... : (
We went to get dinner at a brightly-colored restaurant named Casa de Frida.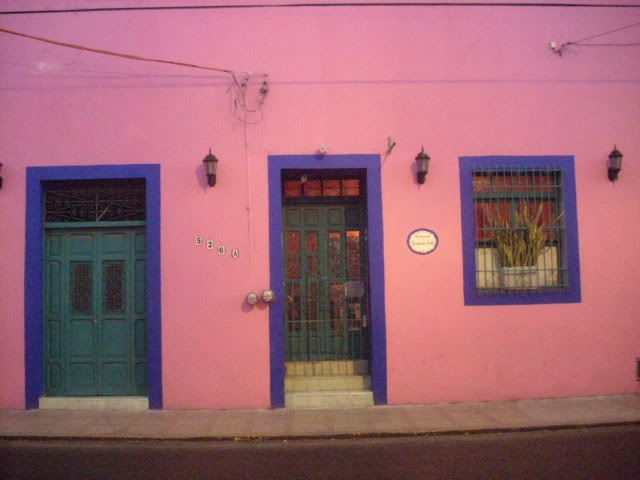 I loved the inside. Frida Kahlo paintings were hanging all over and the other decor was awesome too. And they pull back the ceiling too so it's all open-air like.
Here's my table that night (from left to right: Me, Carol, my roommate Zach, Lauren).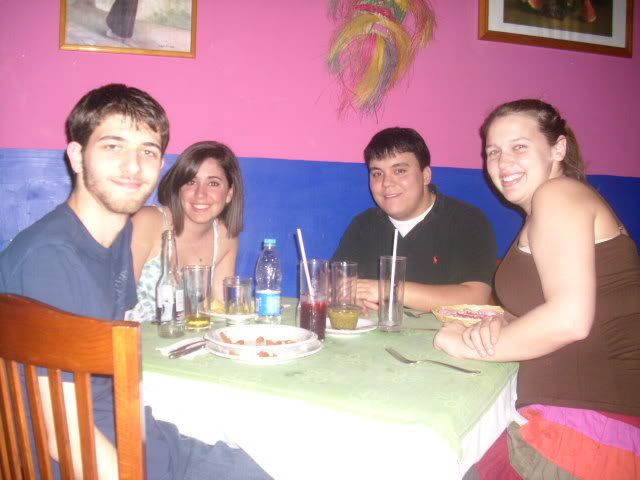 I had chicken with mole sauce, which is made with chocolate. It was good. And know what was so cute? They bring the check out in a little box!
After dinner we walked around Merida.
At night on the weekends, they close the streets and set up tables. People hang around and eat and dance. It was really cool to see.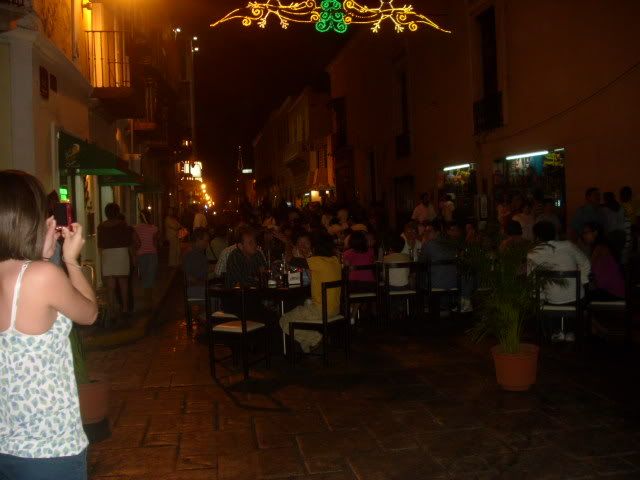 This is the most popular kind of taxi in Merida.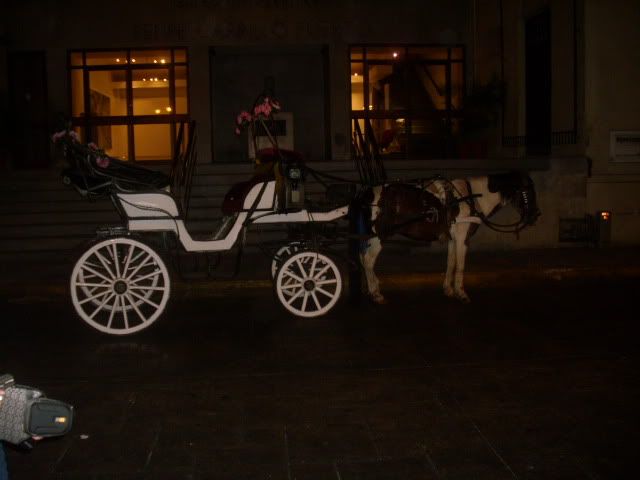 This is the entrance to the University in Merida, which people come to from all around Mexico. It's just on the street corner like that! There's no campus, just a small building.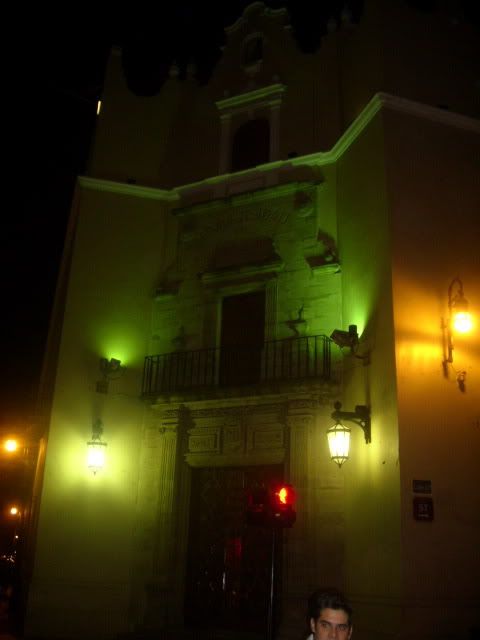 I like this maternity statue.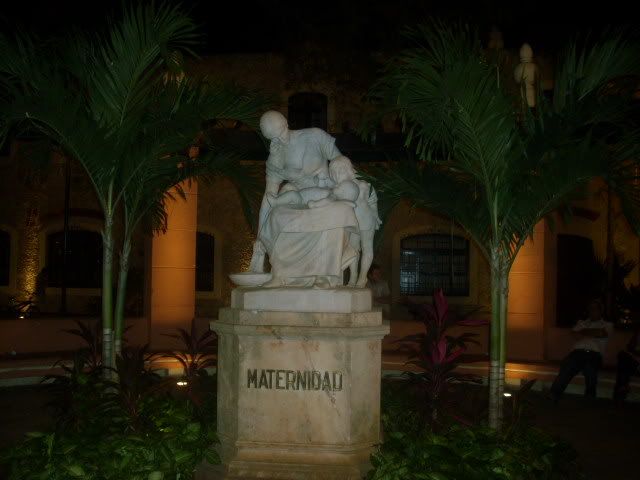 They had these stone seats that couples sat in to make out and stuff, but I just sat there with Colleen.
See that tree behind us painted white on the bottom? All the trees are like that in Merida. They paint the bottom part of the tree with limestone because apparently bugs don't like limestone and won't attack the trees.
I liked the sign for this hotel.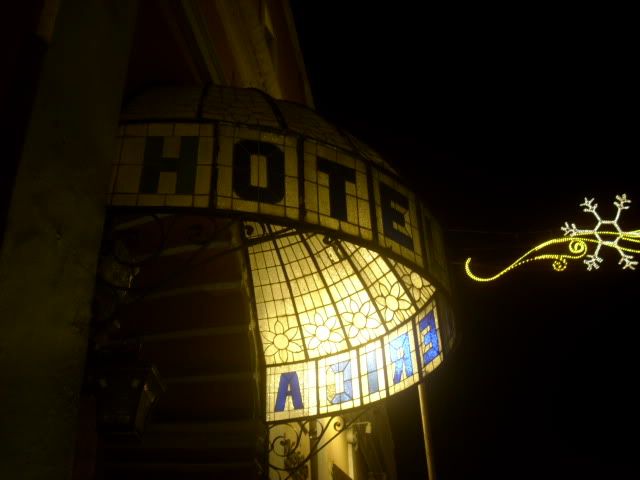 Which reminded me to head back to my own hotel.
Day 1 was over, but it was kinda short and we didn't really do anything. The next day would be a day filled with ancient artifacts and cantantes.