One (sweet) day (ft. Boyz II Men), I was thinking about all my blogger friends. I realized that it was about time that I met all of them. So I asked everyone to meet up one day for some karaoke!
And last Saturday, it finally happened!
I hopped on a bus (at Port Authority with a dream and my cardigan?) and headed to one of my favorite places: New York City aka Nueva Nueva.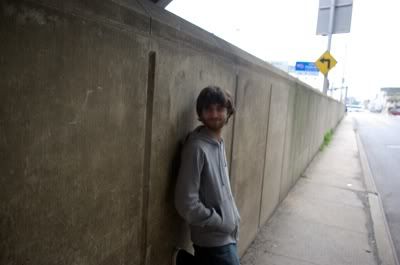 Oh, and
Josh
came with me too!
When we arrived in the city, we texted some of the others to get directions to the karaoke joint. Oddly enough, nobody answered us.... So we just walked around (in the wrong direction) and then FINALLY found the place!
As soon as we entered the room, the others began talking.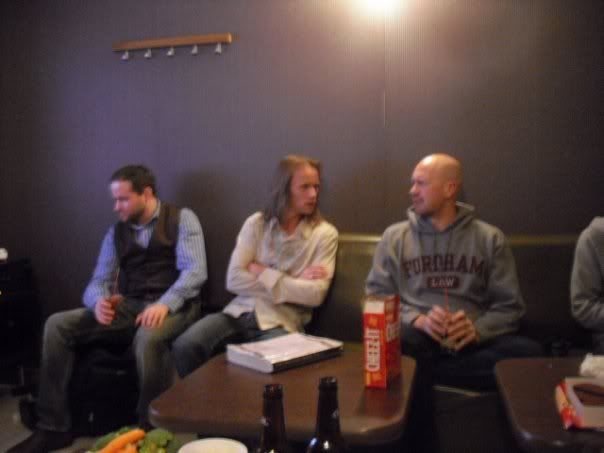 This is what I overheard:
Jere: Ugh. I was hoping they'd get lost.
Dave S.: Who invited them?
Jere: Right? Now we can't even go to a bar cause that short one is like 15 years old.
Josh and I ignored those harsh words and turned our attention to Craig, who said he was dedicating his next song to us.
He then sang the classic pop song "Leave (Get Out)" by JoJo.
When Josh y yo refused to leave, everyone beat us up. Chris grabbed the camera to record the brutal attack.
Then everyone watched the video over and over and laughed louder and louder.
We were totez over it so Josh y yo jumped on the train and hoped to find happiness somewhere else.
But everyone followed us. We thought that if we got everyone drunk, they'd be nicer to us, so we recommended going to a bar!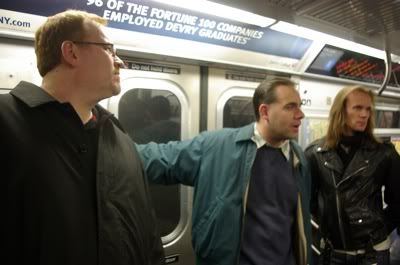 Polt turned his head in disgust. FDot said that we were speaking too fast. Dave S. posed, knowing that I was about to take a picture.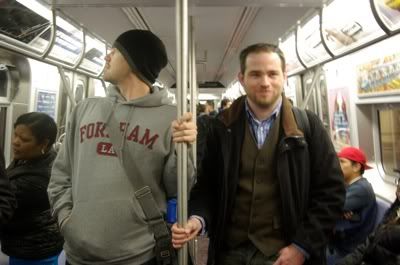 Jere looked out the window and pretended he wasn't in our group. Chris laughed at me and Josh as we tried to go under the train (and get dragged to hell).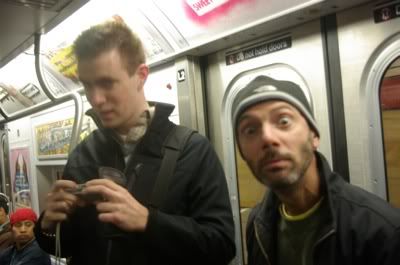 Craig rolled his eyes and David asked, "What are you looking at?" Then they punched us.
But no one could resist the alcohol and we ended up going to a glamorous bar!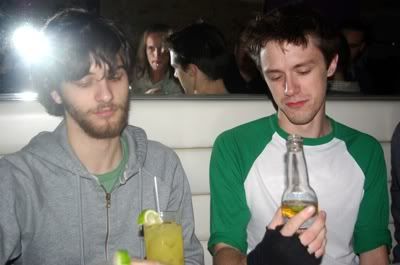 Josh and I knew it was a
long way to happy
, so we drank our
trouble
s away while the rest of the gang talked merrily about all things NOT pop culture.
Then David said that since we both had kissed someone before, we were dirrrty (feat. Redman) whores and kicked us out of the bar.
We huddled against a dirty wall.
We both cried (feat Abigail's lost innocence).