My Witch in Lit teacher told me to do this fun activity on Halloween night.
First, you
steal
get an apple.
Then, you CAREFULLY peel it from top to bottom, in ONE continuous strand.
You look into the mirror, and throw it over your left shoulder and say:
"Peel, peel
Please reveal
The first initial
of my true love."
The peel should fall in such a way that it makes a letter of the alphabet. This letter should be the first initial of your true love!
After many unsuccessful attempts at peeling the apples in ONE strand, I finally got one all the way to the bottom.
Ok, well there was a LITTLE left, but it was good enough.
Here's what I got: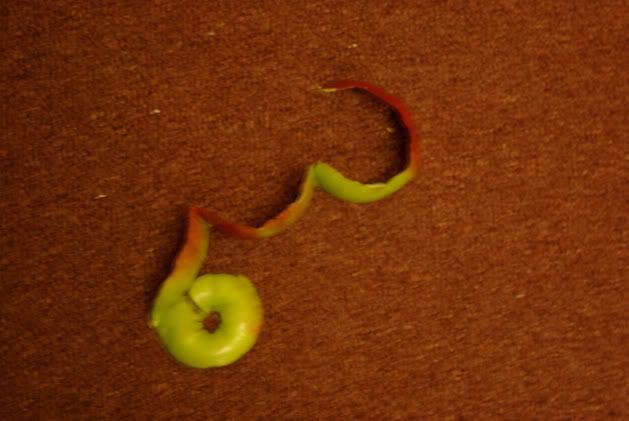 So I was pretty surprised this does actually look like letters! You're only supposed to get ONE letter, but I think I got "OW" (kind of in a lowercase cursive way, right?!)
My first thought was, "Ow?! Does this mean I will be HURT when I fall in love?!"
But then I tried being less pessimistic and thought maybe this is supposed to represent first AND last name initials!
My friend suggest Oscar Wilde, but that seems unlikely. Another said Owen Wilson. Again, unlikely.
But either way, I guess I'll be on the lookout for whoever has those initials...