Have you all been on
Chatroulette
yet? It's basically the most fascinating site ever and it's currently getting a lot of attention.
If you've been living under a rock or are
over the hill
and don't pay attention to hip modern things, the site is a way to video chat with strangers all over the world! You turn on your webcam, hit go, and are hooked up to someone around the world who is also signed into the site.
Christie and I have been on Chatroulette for the past few weeks and we've seen so many interesting things and met some cool people.
We've met people from foreign countries like Brazil, France, Australia, Venezuela, England, Turkey, Indiana and many from the UK.
Our first day on we met this dude and his girlfriend.
They were swingers (or so they said). Do you love my disguise??
We also met this dude, who said he was trying to get into a frat and needed to see Christie's boobs in order to pledge.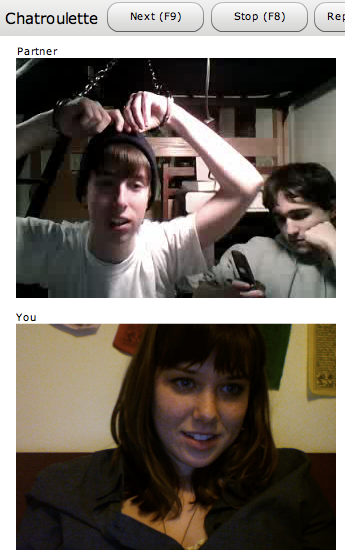 Yeah, sure.
We met this dude, who started the convo by playing us a song.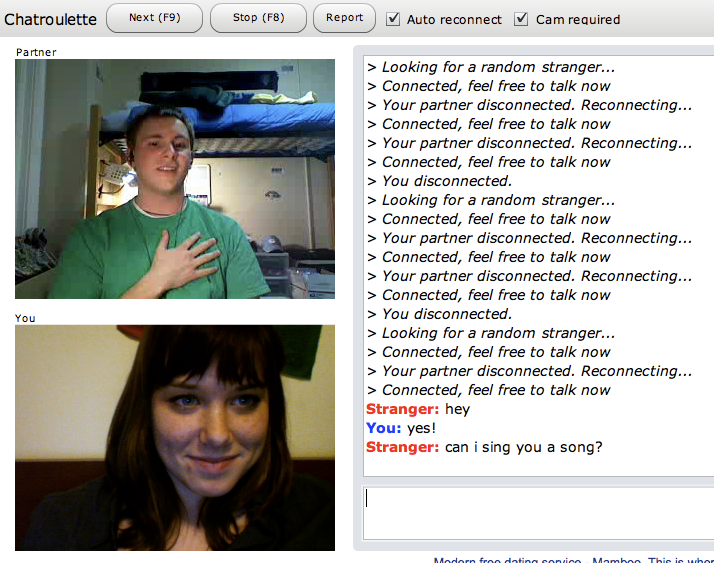 He played Miley Cyrus' "Party in the USA" on a trumpet! We were so impressed. Then he asked for boobs.
These guys didn't want boobs. Just a kiss.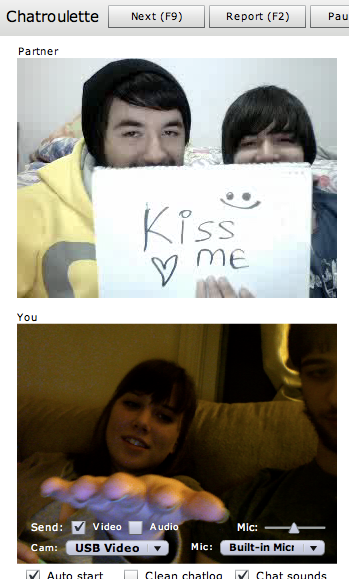 We met this kid who was totally not lying when he said he was 18.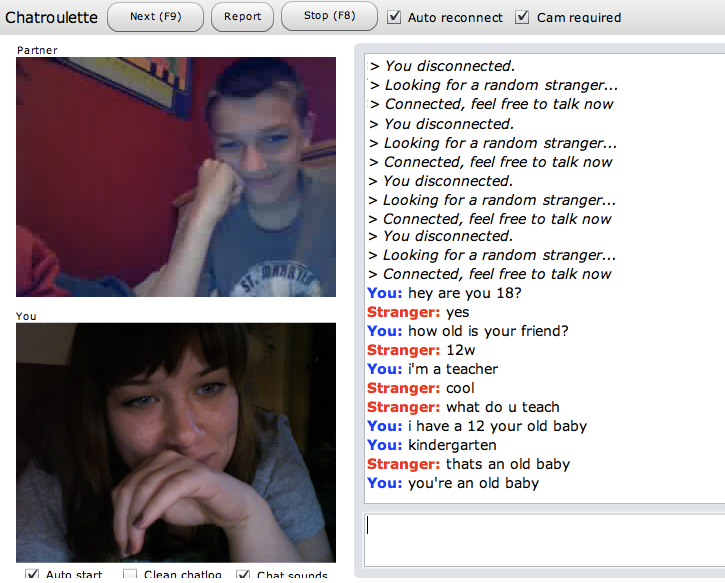 And we even met this one girl who I kept calling Miley Cyrus, asking her about her album, her boyfriend, and her latest movies.
So anyway, I start a lot of my convos with "Are you famous?" because obviously I want to meet someone famous and Chatroulette seems like an easy way to do that! If they aren't famous, I pretend they are (see above example). So last night, we talked to the coolest person we ever met on CR...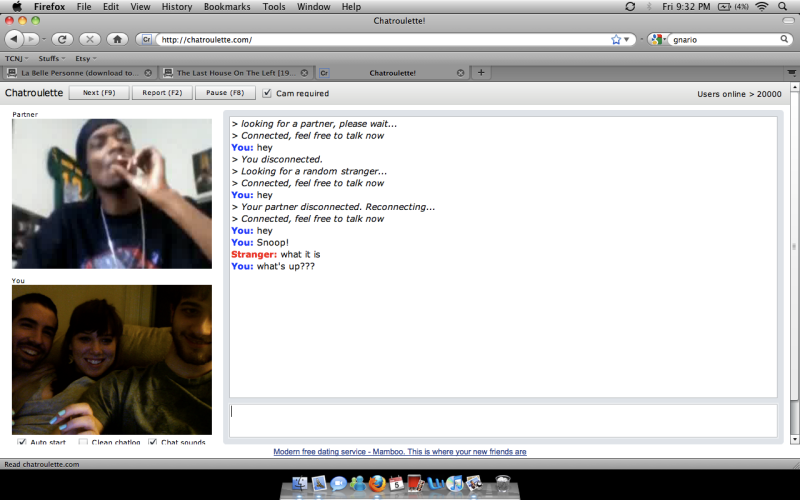 While I was on with Ross and Christie and we bumped into Snoop Dogg. Some jealous people (i.e. Cindy!) pretend that this was a wannabe Snoop, but I know it was him! Lots of
celebrities
use
Chatroulette so there's no reason why Snoop wouldn't use it! And it wasn't just a picture or a Snoop music video. He moved around, smoked marijuana (!), and even blew smoke into the camera.
After
chatting
for prox. a minute, the camera froze (Chatroulette often has server problems since it just exploded in popularity) and we were disconnected. But our memories (and screenshots) will last forever!
So have you been on yet? If not, do it! I swear, it's fun.